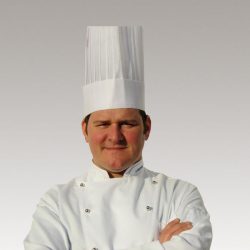 Ingredients and quantities
Flan:
300g Jerusalem artichokes
50g clarified butter
1 whole egg
1 egg yolk
100g fresh single cream
50g grated Parmigiano cheese
salt and pepper
Bagna Caoda:
100g butter
1 garlic clove
100g whole milk
100g desalted anchovies
Vegetables:
150g carrots, turnips, zucchini
Preparation
Flan: wash the Jerusalem artichokes well and place them in a vacuum cooking bag with the clarified butter, vacuum close at 99%. Cook in the air-o-steam touchline for 45 minutes at 103°.
Blast chill with air-o-chill when cooked. Peel the Jerusalem artichokes and blend them in the multigreen with the egg, cream, Parmigiano cheese, salt, and pepper. Butter a few moulds to taste and fill them with the mixture. Steam at 90° in the air-o-steam for 20 minutes.
Bagna caoda: boil the garlic three times in the milk. In a saucepan, melt the butter and add the cooked garlic, and then let it continue to cook slowly, add the anchovies and allow everything to melt gently. Sift with a fine mesh Chinese strainer.
Vegetables: scoop out the vegetables into "pearls" with a small corer. Steam the turnips and carrots for 8 minutes and the zucchini for 3 minutes with air-o-steam in a perforated tray. At the end of the cooking, blast chill immediately with air-o-chill.
Presentation: place some "bagna caoda" on the plate, place the hot Jerusalem artichoke flan and sprinkle with the vegetable pearls sautéed in a little butter. Garnish with a sprig of chervil.
Give a look at these ideas, you may like them:
Jerusalem artichoke flan, "bagna caoda" and vegetable pearls
2016-11-05T10:22:41+02:00