NitroChrome3
An incomparable solution!
Non-scratch, extremely resistant, high quality and offers optimal hygiene
900 XP Fry TopHP with NitroChrome3 surface is a unique, non-scratch solution, ideal for heavy duty use, easier cooking, easier cleaning and low heat emission.

Non-scratch
surface
NitroChrome3 guarantees extreme resistance to scratches and corrosion in addition to improving the non-stick properties of the cooking plate, ensuring express cleaning at the end of the day.

Even
grilling
Uniform heating throughout the surface, no cold zones, ensuring maximum results regardless of where the food is placed. 20mm thick heavy duty plate provides high thermal inertia for fast temperature recovery.

Cost
savings
NitroChrome3 surface allows a savings of more than 10% in energy consumption* during the pre-heating phase and approximately one third in stand-by mode. 30% less time* and effort needed to clean the fry top at the end of the day.
*Calculation based on internal tests, comparing to mild steel surfaces


Food Safety
guaranteed
Electrolux Professional chrome Fry Tops fully comply with the European Food Contact Materials Regulation (EC) No. 1935/2004.

High
productivity
More profit. Prepare large quantities of different foods on the 600x1200mm cooking surface.
Hamburgers, fresh
Chicken breasts
Sliced vegetables
Sole fish
*based on internal cooking tests
350 portions/h
180 portions/h
250 portions/h
180 portions/h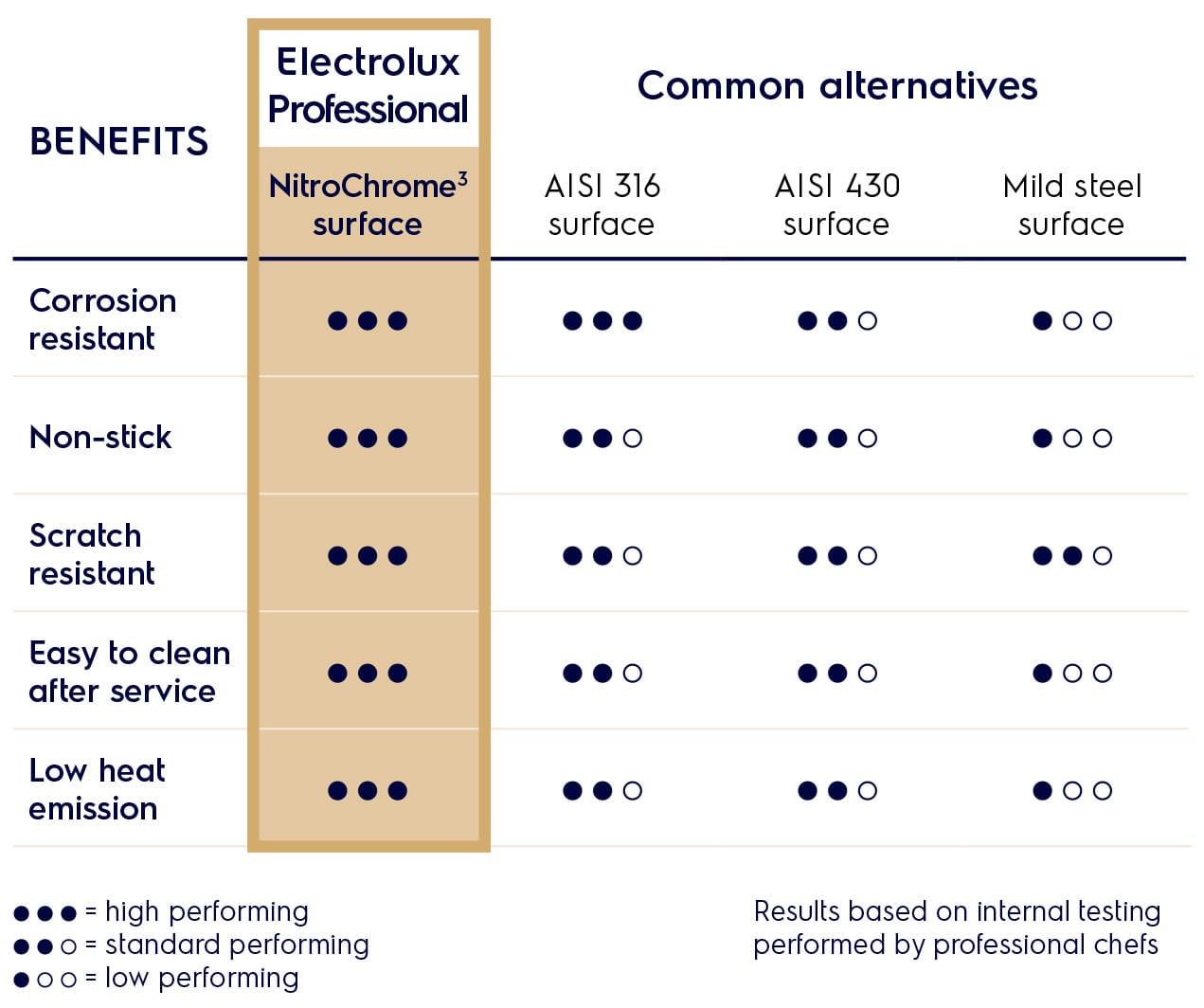 Contact us to receive more information about NitroChome3
NitroChrome3, an incomparable solution
2020-05-28T07:45:26+02:00