Electrolux Commercial Range Hoods
Since 1871.
Production, precision and tradition for over 100 years.
Industrial Range Hoods
made for commercial-use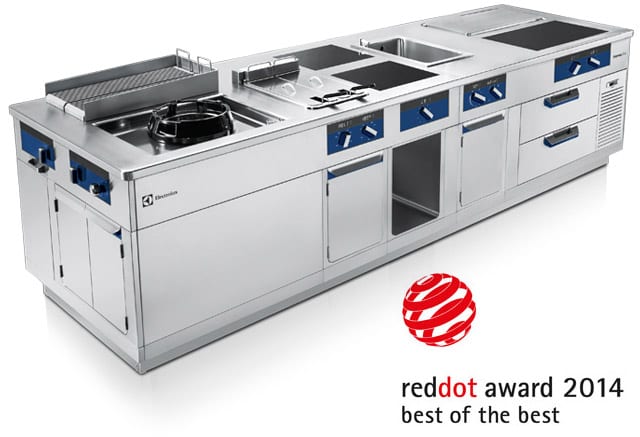 Create your ideal kitchen
Made to Measure is created to offer every top chef a partner for life, meeting the requirements of five-star hotels and fine dining restaurants with the latest professional technology and ultimate kitchen design.
Red Dot Award for Product Design

thermaline M2M has won the Red Dot Award for Product Design 2014, a prize that has established itself as one of the most sought-after quality marks for excellent design worldwide.
thermaline M2M has won the Red Dot Award for Product Design 2014, a prize that has established itself as one of the most sought-after quality marks for excellent design worldwide.
thermaline modular 80 & 90 commercial ranges
thermaline Modular cooking ranges boast a strong internal frame resistant to bumps and corrosion
Free-cooking top allows you to use both pots and pans and cook food directly on contact at the same time
The unique retro-illuminated glass display and the highly-visible LED digits, on electric version, provide full control of your operations.
The Thermodul seamless connection between cooking functions (ProThermetic boiling and braising pans included) avoids liquid infiltration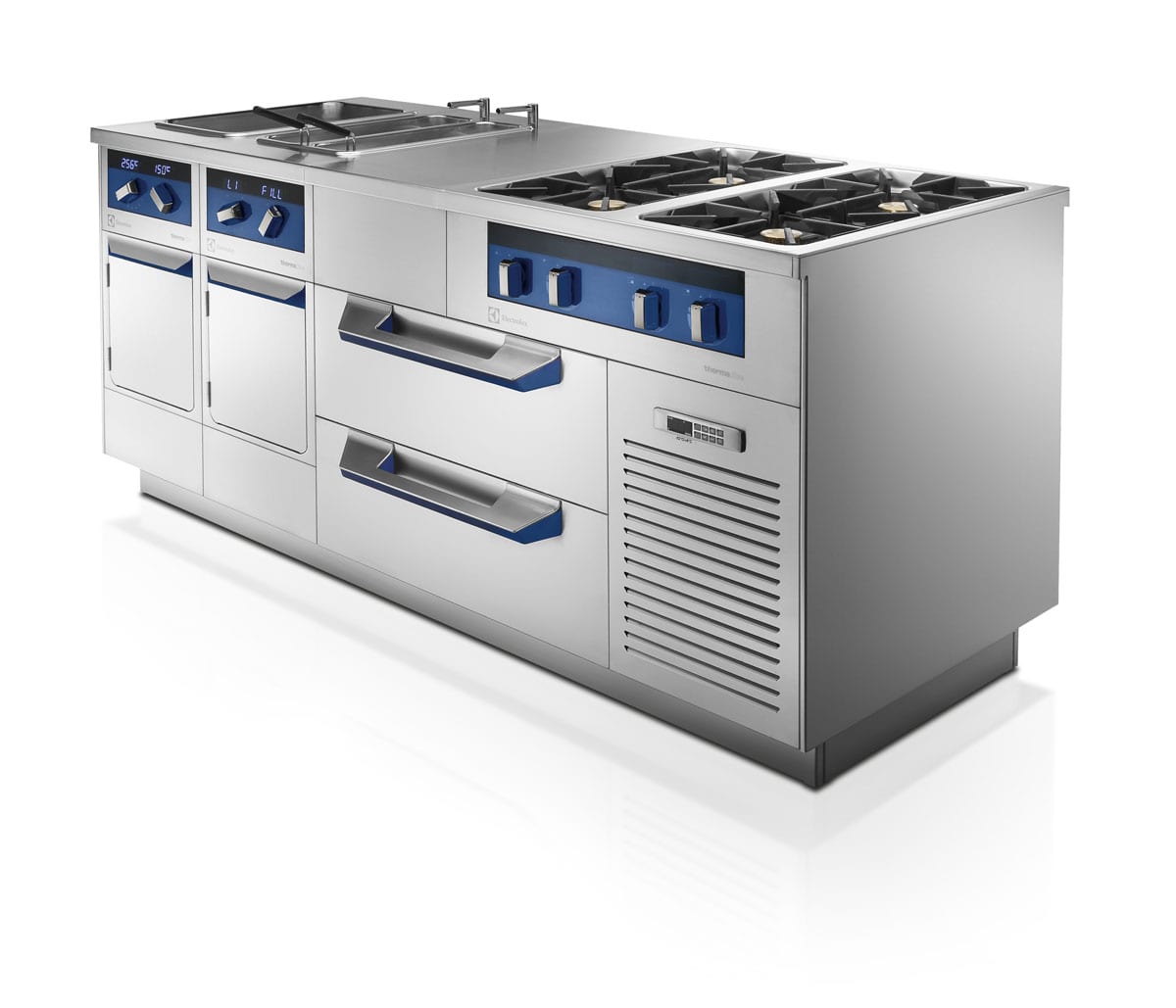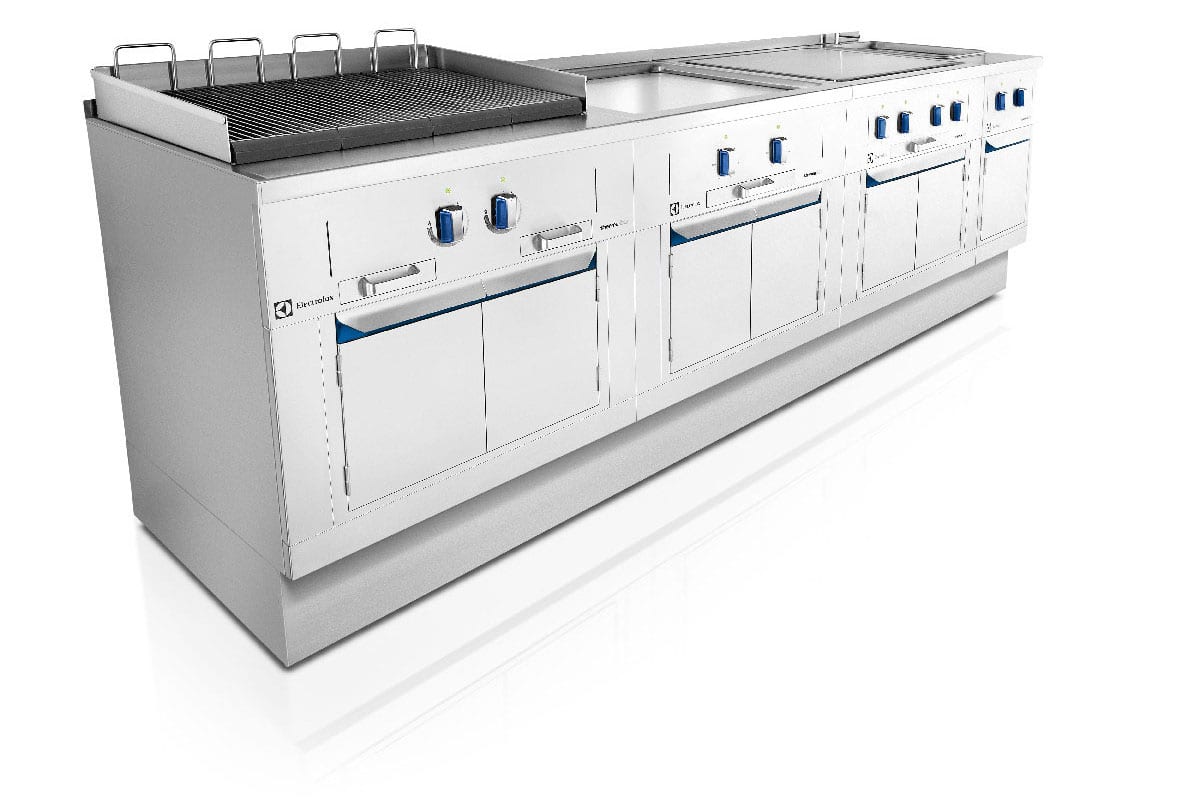 thermaline modular 85 commercial range
The most flexible modular cooking system offering multiple configurations (against the wall and back to back)
Infinite Possibilities
with M2M thermaline
Check out our 25 examples of
M2M thermaline Suites!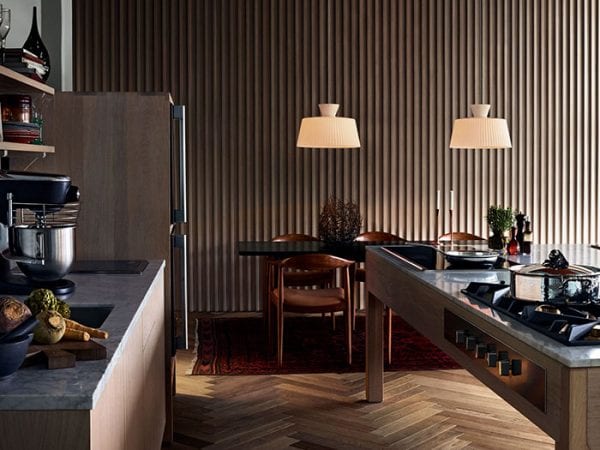 Electrolux
Grand Cuisine
Designed for "built-in/drop-in" installation in exceptional kitchens and can be combined with thermaline M2M
Industry-Leading Commercial Canopy Range Hoods
To accompany the world's best range of commercial cooking ranges and ovens, Electrolux also manufacture and supply an award-winning selection of commercial range hood models. Whether you require an industrial quality range hood for a 5 star hotel kitchen, a corner café, a school or hospital canteen, a catering kitchen or a restaurant, we can provide the model and size you need.
Read More
Some of our most popular industrial canopy rangehood models include:
Exhaust Hood Without Fan
This Exhaust hood is for 6 and 10×2/1 GN ovens and comes without a hood as it is mandatory to use the flue condenser (640415) on installation with gas ovens. It comes with dishwasher safe mechanical filters and ensures correct aspiration and consistent reduction of odours.
Integrated Odourless Hood with Fan
Our integrated odourless industrial range hood is designed for our air-o-steam/air-o-convect 6GN1/1, 10GN1/1 and 20GN1/1 electric ovens. Eliminate carpentry costs as these commercial exhaust range hood models do not require the need for an external exhaust pipe while the high performance suction system ensures a high energy saving.
Stainless Steel Wall Hoods with Filters
Our stainless steel wall hoods and filters come in an extensive range of different sizes, ensuring whatever the kitchen space you have to work with, we can provide a wall hood to meet your needs. Available in both 304 and 430 stainless steel, these hoods ensure a low noise level and feature external panels with upturned edges to create a safer, more enjoyable and productive work environment. Prearranged for lighting installation, each hood is constructed with AISI stainless steel.
Electrolux Professional Range Hoods – FAQs
If you are in the market for new commercial range hoods, there are some key things to know and considerations to be aware of, to ensure you make the right purchase for your commercial kitchen.
Do I need a range hood?
Commercial kitchens may be refused planning permission if the design does not include provision for the inclusion of a range hood. A range hood may help to mitigate fire and therefore safety risks to your employees and customers. Insurance companies also typically specify the need for an extraction system on site as a key condition of their policies.
What size range hood should you purchase?
As a general rule, the capacity of the range hood should equate to six times the volume of the commercial kitchen space in which it is located. To estimate the required size, you should therefore calculate the hoodlength x hood width x hood height x 6.
Another way to calculate the required size is to measure the size of the total cooking equipment and add 300mm on either end.
How do you clean and care for your range hood?
Cleaning and maintaining your range hood is an easy task. Your grease filters will typically be dishwasher safe. The filters must be cleaned every two months of operation, or more frequently for particularly heavy usage, and can be washed in a dishwasher. The rest of the hood can be easily accessed and cleaned, even the inner housing. It's advised to give the whole unit a clean each time you remove the filters for cleaning.
Enquire About Our Commercial-Grade Range Hoods Today
If you want to learn more about any model or size range hood supplied by Electrolux, fill out our online enquiry form and we'll soon be in touch. Our expert team can help to advise the best option to meet your needs based on the size of your kitchen space and nature of operations in your commercial kitchen.
We are proud to be known as the premier global brand that businesses trust to get the job done. We supply Australia with commercial blast chillers. Additionally, we specialise in delivering high-quality commercial cheese cutters and commercial food vacuum packers. Don't hesitate to contact us for more information.
Read Less
Get in touch with our team of experts and find out what Electrolux commercial range hoods can do for your business
Range Hoods
2019-07-21T23:50:15+00:00
Filter (270 Products)