The new range of appliances which provides
the highest quality and hygiene in line with every professional kitchen.
Commercial Food Vacuum Packer
Vacuum packing is a method that removes air from the package before sealing. It removes oxygen to extend the food shelf life.
Free-standing and table top vacuum packers, from 10 to 60 m3/h (100 to 800 meals/day). All models are HACCP compliant.
Easy to program digital control panel guarantees optimal vacuum pressure and heat seal times
Models suited for inert gas, for packaging delicate foods
Highest levels of hygiene and ease of cleaning thanks to pressure chamber with rounded corners
Warning light indicates any malfunctioning in the packing process and stops operation before the products are heat sealed, allowing them to be reused.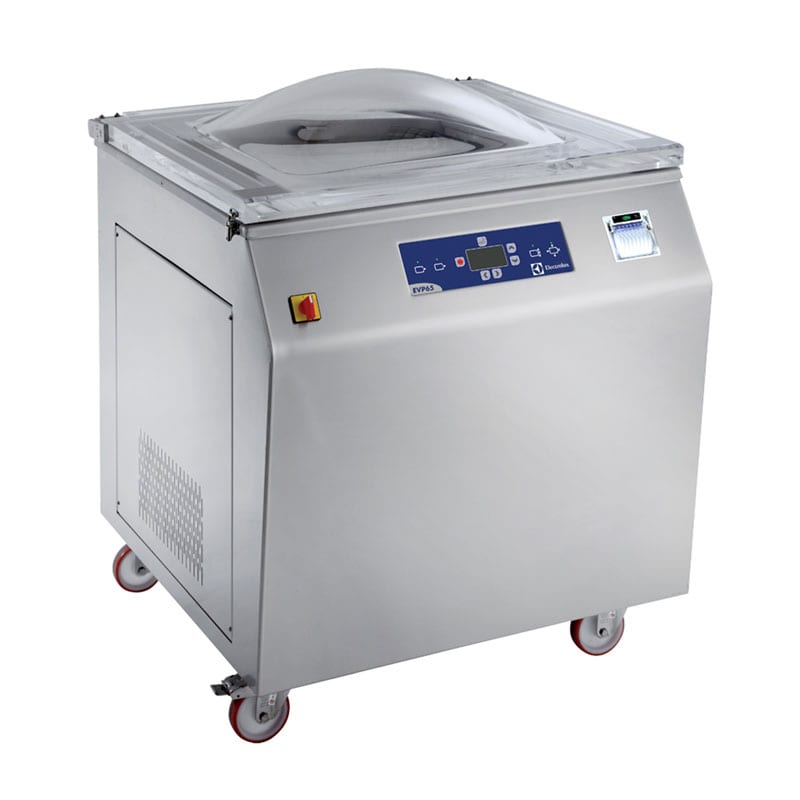 Get A Commercial Vacuum Sealing Machine From Electrolux Professional
If you are in need of kitchen equipment that will help you to save time, make more profit and grow your business faster, then Electrolux Professional is the company that you need to speak to today. Millions of Australian restaurant and business owners already own a professional vacuum packaging machine. A great commercial food vacuum packer will help many people from those working in canteens to those in hospitality and restaurants.
So, why should you purchase a commercial-grade vacuum sealing machine from Electrolux Professional? Find out more below about the benefits of buying from us.
The Benefits Of Our Commercial-Grade Vacuum Sealing Machines
There is a wide range of benefits that come along with buying a commercial vacuum sealer from Electrolux Professional and here we are talking you through just a few of them, so you know what to expect when you make a purchase from us.
We all want to do our bit for the planet and there are far too many businesses putting profit before sustainability. At Electrolux Professional, we believe both are important, which is why we put both at the heart of our business. When designing and creating our technologically advanced products, we always have sustainability and the environment at the forefront of our minds. Our firm commitment to this has led to us making huge improvements in water and electricity efficiencies to help make big savings on costs and improve your business's profitability.
Another major reason to choose Electrolux Professional is that we are the leaders of commercial kitchen and laundry innovation and products and our name is known across the world. There is no other company making the same advancements that we are and with a century of expertise and experience in this field, we know exactly what it is that you want as the customer so we can focus on this when creating the product to solve your needs.
Lastly, you can make a purchase from Electrolux Professional with complete peace of mind that we are a trusted and reputable company as we are there for you from installation right through to the end of your equipment's life. We have maintenance agreements which are the best of the best due to our years of knowledge in this industry.
Shop Our Range of Commercial Food Vacuum Packers Today
Everyone loves a bargain and you can be the first to learn about any new product releases or special offers that we may be having in a number of different ways. The first is to make sure that you are signed up for our newsletter to get this news sent straight to your inbox. Secondly, you need to head on over to our Facebook, Youtube, LinkedIn, Twitter and Instagram pages where you can follow us and will get our latest updates on your feed.
If you have any questions about our products, contact our team now by phone or email and we will be back in touch with you as fast as possible.
We are extremely proud to be known internationally as the premier brand that restaurants, hotels and cafes trust to deliver high-quality products. We provide Australia with commercial kitchen equipment in Sydney. Also, we promise to continue to provide reliable commercial kitchen equipment in Melbourne and commercial kitchen equipment in Perth. Don't hold back, contact us today.
Discover what our vacuum packers can do for your business
Food Vacuum Packer
2019-07-18T01:15:26+00:00
Filter (6 Products)