Electrolux Professional – Commercial Coffee Machines
Electrolux Professional Commercial Coffee Machines are designed to offer a full of flavour experience. Design and technology are combined to always provide you the best coffee machine for your business, whether it is a small restaurant or a big café.
Robust flavour, flawless performance
Crafted for express performance and adaptable to different brewing systems, our espresso coffee machines offer the best results in every cup, whether the coffee comes from beans, pods or capsules.
Electrolux Professional created a range of appliances that can be chosen and configured according to your needs. From traditional to super automatic professional coffee machines, through single serve ones, you will always find the solution that best fits your business, with the warranty of providing a high quality espresso.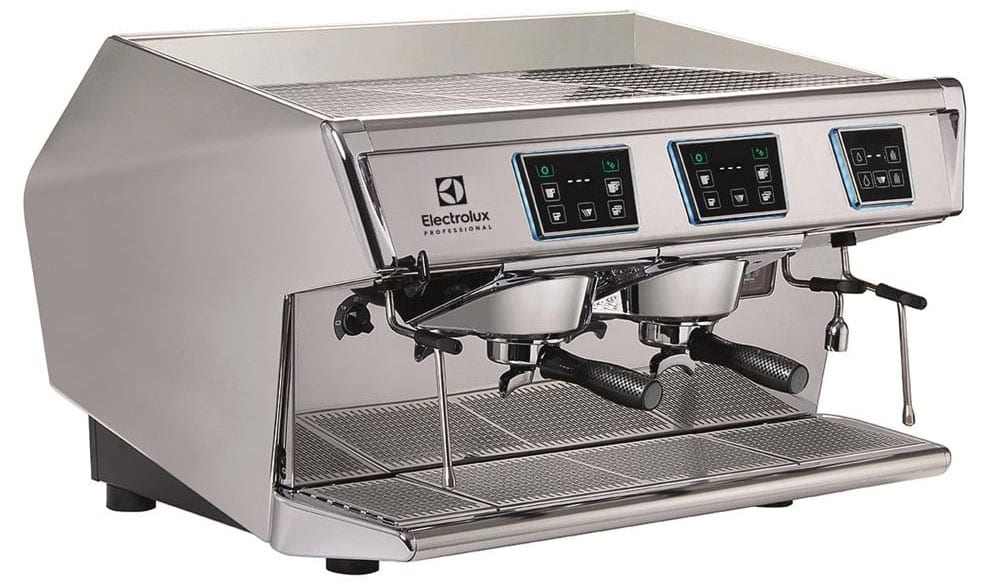 Equipment with the heart of a barista to complement your business.
Industrial Coffee Machines designed for professional use and a sensible budget
Choose a single-group, two-group, or threegroup machine. Each model features heavy duty components and welded construction, a direct mounted boiler group head for thermal stability and reliable extraction, easy access to components for uncomplicated serviceability, and unlimited steam.
Discover our new Commercial Coffee Machines.
Professional Coffee Machine
…with the warranty of providing a high-quality espresso. 
Electrolux Professional are a global, trusted Electrolux, with over one hundred years' worth of experience in manufacturing and installing commercial kitchen equipment. We are particularly passionate about stocking greener products, to lower utility costs for companies. We'll be with you every step of the way, from the day of installation to the end of your equipment's lifetime. Thanks to our years of experience in designing kitchen equipment, your professional coffee machine comes with a comprehensive maintenance agreement based on our extensive knowledge and expertise. Electrolux Professional forms a global customer care network comprised of over 2200 fully authorised technical experts. So, no matter where you are in the world, you can be sure that your professional coffee machine will be the best possible quality, with an experienced team on standby to keep it maintained and performing at its most efficient.
Professional Coffee Machine: Equipment with the Heart of a Barista to Complement Your Business
…new Commercial Coffee Machines.
Our professional coffee machines are specially designed for companies with a smaller budget who still want great quality coffee for their customers. With three different options for groups (single, two-group, or three-group), we'll have machines to suit businesses of all shapes and sizes. Not only that, but we're firmly committed to sustainability. We're making efforts to improve water quality and electricity efficiency in order to save costs and improve your profitability. With a professional coffee machine from Electrolux Professional, your business will enjoy more efficiency, more profit, and (last but by no means least) some great-tasting coffee.
Professional Coffee Machine: Commercial Coffee Machines from Electrolux Professional
…so that you really can have it all.
We know that running an establishment is stressful enough without the added worry of unreliable machines with high maintenance costs. That's why we've made a commitment to lowering running costs where possible, by improving water quality and energy efficiency with all of our products. We pride ourselves on leading in innovation and design to deliver on solutions that not only make our customers' lives easier, but more profitable. Choose from our range of products and find your next coffee machine – we're sure to have one which will fit your every need. You really can have it all with a professional coffee machine from Electrolux Professional: great-tasting coffee and great performance.
Professional Coffee Machine: A Professional Coffee Machine to Suit Your Australian Catering Business
…with our range of quality commercial kitchen equipment.
No matter what your individual needs are as a business, you can guarantee that with a professional coffee machine from Electrolux Professional, you'll be able to provide great-tasting coffee for your customers as well as see a measurable improvement in your profitability. With our combined experience, we've carefully designed all of our machines to put in a great, reliable performance which delivers on efficiency as well as taste, every time. Electrolux Professional are currently the only company worldwide which stocks products for professional kitchens as well as commercial laundries, all under the same Electrolux. We've been proud to have been the recipients of several accolades over the years, including the Start Me Up Innovation Award in 2019 and the Best of Market Award for Energy Efficiency in 2020. Our products have been making our customers' lives easier and more profitable, wherever they are in the world. We hope you'll choose to become one of them.
Other products includes commercial cooking appliance, barrier washer and oven for commercial kitchen – contact us now!
Commercial Coffee Machines From Electrolux Professional
There is nothing quite like the taste and smell of coffee. However, not all coffee machines are made equal, and when you are searching for a commercial coffee machine for your café, bar or restaurant, you want to know that it is going to deliver great-tasting coffee every time.
At Electrolux Professional, we can provide you with an industrial coffee machine that does more than just deliver on flavour. Our machines are designed to bring you great performance as well so that you really can have it all.
A Professional Coffee Machine To Suit Your Australian Catering Business
Electrolux Professional has a professional coffee machine that is suitable for the needs of your business from smaller machines to larger 3 group machines with a 15.6 litre boiler.
Our different-sized models all share a commitment to bringing your customers coffee that is full of flavour. No matter how busy your restaurant, café or bar gets throughout the day, your Electrolux Professional coffee machine is up to the task. Our group one coffee machine comes with a 6.3 litre boiler, and it is the perfect choice for smaller commercial kitchens and, of course, still gives you the quality espresso that you are after. Medium kitchens can benefit from our 2 groups restaurant coffee machine with a 10.1 litre boiler, which delivers exceptional coffee all day long.
What's more, our coffee machine for restaurants is easy for your staff to operate, ensuring that your customers consistently get a fantastic cup of coffee. We know that serviceability is important to our customers, which is why Electrolux Professional coffee machines are designed to be easy to service. Along with this, as you are buying from our trusted global brand, you can also take advantage of our comprehensive maintenance agreements. Our maintenance agreements are based on our years of experience of designing equipment and products for the professional kitchen. We have over 55,000 spare parts available, and over 2200 authorised technical experts.
If you are fitting a complete professional kitchen, Electrolux Professional can fit your whole kitchen for you with our range of quality commercial kitchen equipment.
Why Buy Your Industrial Coffee Machine From Electrolux Professional In Australia?
If you need a new commercial coffee machine in Australia look no further than Electrolux Professional for a brand that you can trust.
With more than 100 years of hospitality equipment supplies we bring you a solution that makes your business easier to run and gives you greater profits. Along with this, as Electrolux Professional is committed to sustainability, we can help you to save costs and know that you are also doing your part to help the environment.Whatever your business is, if you need a professional coffee machine, make sure you choose Electrolux Professional and be reassured that you have a reliable coffee machine that both your staff and customers will love.
Fill out our contact form today to find out more and give your hospitality business a well-designed commercial coffee machine at a great price.
Read Less
Commercial Coffee Machine
2020-09-16T04:57:29+00:00