Meikei Sangyo (Meikei) is a commercial cleaning company, located in northern Kanto area (approx. 3 hours from Tokyo). Their main customers are hotels, elderly care institutions and medium to large size hospitals.
The relationship between Meikei and Electrolux Professional dates back to 2004 when Meikei decided to build their 2nd factory in order to expand their hygiene cleaning business. Meikei was impressed by the overall hygiene concept and specifically the Barrier Concept offered by Electrolux Professional.
The result of this initial engagement led to the sale of 8 Barrier washers and 6 Tumble Dryers to Meikei for installation in their 2nd factory. Integration of Electrolux Professional products into their cleaning system greatly assisted Meikei in achieving their hygiene certification in accordance with RAL quality mark RAL-GZ992/2.
Meikei's 2nd factory welcomes visitors for a tour of the facility to demonstrate their advanced cleaning process based on the idea that seeing is believing! One part of the tour consists of an explanation of Electrolux Professional hygiene concept and laundry cycle management.
Covid-19 has had a negative impact on the hotel business since people are travelling less. As a consequence, Meikei' business for hotels was also affected. At the same time, there is an increased demand for hygiene laundry services among hospitals and elderly care institutions. The majority of the items cleaned by Meikei in their hospital business is divided between patients' clothes and surgical gowns, even extended to resident garments at elderly homes.
Many commercial laundry companies stopped supplying their services to hospitals and elderly care institutions due to Covid-19 as they were not confident to provide services without having their employees becoming infected. Meikei on the contrary took all necessary steps to grow their business by promoting their capability to offer cleaning services utilizing an advanced hygiene concept including Electrolux Professional solutions. The response was overwhelming even required to increase cleaning capacity.
Specifically, Meikei has replaced two of their original Barrier Washers with 70 kg models. Electrolux Professional expedited the delivery and installation of the new equipment due to the urgent requirement.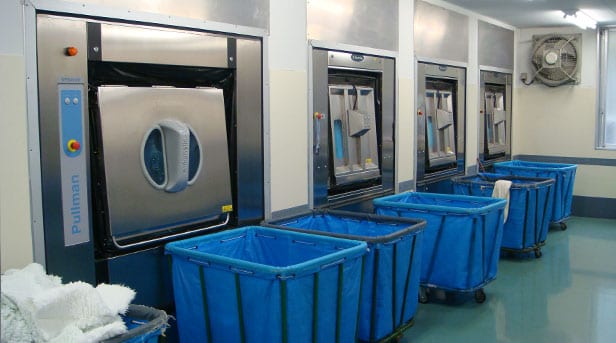 Photo: Meikei Sangyo (Tochigi Prefecture, Japan)
Spotlight on Japan: running a profitable laundry during the pandemic
2020-07-23T08:56:33+02:00