Product Benefits
User-friendly
Designed specifically to ensure safe and simple operation. Large door opening, easy-to-use interface, very low noise and vibration level are appreciated features.

Tailored to your needs
Extra Spin models are robust and reliable in any type of installation which needs a basic product.

Economical
With our high efficiency shirt finishers you will get high quality finished shirts. Our presses with nickel-plated head reduce heat loss and save energy.
Trouble free operation
The special design and technical features will guarantee trouble-free operation and excellent finishing results. Our machines are provided with an anti-stretching device to protect waistband and legs from deformation when finishing elastic fabrics.

Product Features
Heated to keep the working surface dry

Utility shape, for general purpose
Specifications
Connections
Air consumption l/min 120
Steam consumption, kg/h 3
Steam connection, DN DN 10
Rec. steam pressure, kPa 550-550
Condensate, DN DN 15 DN
Compressed air, DN 6
Rec. air pressure, kPa
Dimensions
Width: 2150 mm
Depth: 2010 mm
Weight, net kg 180
Weight, crated kg 210
Shipping volume , m3 1.55
Height: 1535 mm
Documents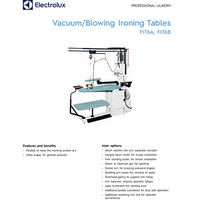 FIT6A, FIT6B
(285,18 KB)
Product Support
Do you need support
for this product?
Get in touch with one of our Service Partners.
Interested in
this product?
Select on the map your area and get in touch with one of our Sales Partners
Do you own
this product?
You may be interested in user manuals. Please login and then click here to find out manuals.
Let us provide more for
your business!
Register your product and let us provide you with our best contents and customer care.