Product Features
Easy to use electronic control panel with LED display showing water temperature and re-therm cycle countdown. An acoustic alarm warns the operator when the cycle is completed.

Two program cycles available.
• Default re-therm program: the cycle allows the re-thermalization of minimum 2 and up to a maximum of 10 bags of soup from 5°C to 80°C in 60 minutes (at an ambient temperature of 20°C. Times may vary depending on soup and bag type as well as bag temperature from fridge).

• Searing program: allows the operator to extend the re-therm cycle for additional 10 minutes, if a higher temperature is required.

When launching a cycle, if the water is below 75° C the unit will display "PrEh" and the countdown will start once the temperature of 75° C is achieved.

Well equipped with a dedicated temperature sensor to control the water temperature and 3 additional sensors to manage the water level.
Overflow sensor detects if the water exceeds the maximum level and automatically activates the drainage pump connected to the overflow pipe.

Safety thermostat prevents the machine from running without water.

Automatic water level filling and re-filling.

Well equipped with 2 dedicated AISI 304 stainless steel racks, able to fit 5 bags each (10 bags totally). The racks have a flexible wall to maintain the correct bag position during the cycle, thus guaranteeing maximum performances.
IPx4 water protection.

Water basin in 316-L type Stainless steel to avoid corrosion.

One piece pressed 1.5 mm worktop in stainless steel with smooth, rounded corners.

Exterior panels in stainless steel with Scotch Brite finish. Back, bottom and front made in stainless steel.
Stainless Steel removable support located inside the well to support the soup bags.

Infrared heating system positioned under the external base of the well to ensure elevated performances.

Safety thermostat automatically switches off the appliance in case of overheating.

Rear hinged swiveling cover and handle with spring torsion mechanism to allow the cover to remain open during operations.
Water drain positioned on the back of the appliance with an external flexible pipe to facilitate well discharging.

Integrated water drain pump to manage draining operations and water overflow.

Mounted on 200 mm high feet.

Equipped with 2 meter cable with plug.
Specifications
Electric
Supply voltage: 220-240 V/1 ph/50 Hz
Total Watts: 3.5 kW
Key Information:
Configuration: Free Standing
Number of wells: 1
Usable well dimensions (width): 300 mm
Usable well dimensions (height): 260 mm
Usable well dimensions (depth): 510 mm
Well capacity: 22 lt MIN; 40 lt MAX
Thermostat Range: 85 °C MIN; 95 °C MAX
External dimensions, Width: 400 mm
External dimensions, Height: 850 mm
External dimensions, Depth: 933 mm
Shipping weight: 69 kg
Shipping height: 1080 mm
Shipping width: 460 mm
Shipping depth: 1020 mm
Shipping volume: 0.51 m³
Approvals CE;CB;WRAS
Certification group: N9RT
Water:
Incoming Cold/hot Water line size: 3/4"
Drain line size: 3/4"
Documents
Brochures
Data Sheet
User Maintenance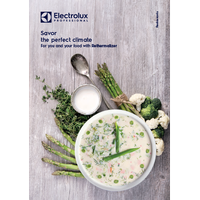 Rethermalizer 2019
(1,07 MB)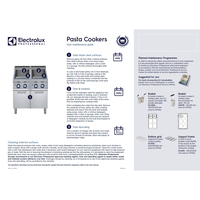 EPR_User maintenance guide_Pasta cookers
(886,51 KB)
Product Support
Do you need support
for this product?
Get in touch with one of our Service Partners.
Interested in
this product?
Select on the map your area and get in touch with one of our Sales Partners
Do you own
this product?
You may be interested in user manuals. Please login and then click here to find out manuals.
Let us provide more for
your business!
Register your product and let us provide you with our best contents and customer care.