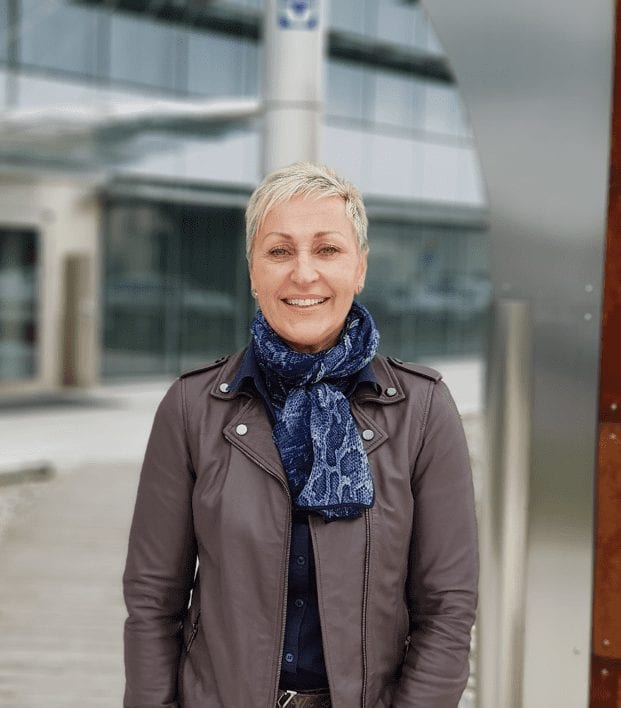 Some day, Emma Corocoher would like to write about all the things she has done in her long career at Electrolux Professional in Pordenone, Italy. But even after 38 years, she's still too busy learning to retire just yet. This is the fifth in a series of stories where we spotlight employees who have been nominated by their co-workers as role models in how to shape living for the better.
Emma Corocher began working in the administration department for Zanussi at age 18, collecting payments. Since then, she has travelled the globe and held a variety of mostly international roles in marketing. With one small exception—read on to find out more—she's enjoyed it all.
In her current role as Centers of Excellence Global Manager, Emma is in charge of all 20 Electrolux Professional centers around the world. She makes sure that everyone—from kitchen contractors and investors to schoolchildren—who visits a Professional Center of Excellence (CoE) has a great experience.
She feels the Centers are not just product showrooms, instead they are living spaces where customers can see our Professional products in action. Potential and new customers receive inspiration and training from our team of professional chefs.
What does shape living for the better mean to you?
It means giving my best to the people in front of me at the CoE. My role is to make possible the greatest experience inside the Centers of Excellence for all our visitors. To do this, I need the help of many people, including my supporting team and the team of chefs. Shape living helps with that.
It's good to keep in mind that we can always improve. We can never forget that the customer is our main objective. We need to concentrate our efforts on them and remember that Electrolux is not only about the products. Coming to a CoE must be an unforgettable experience.
What's your favorite part of the job?
Taking into consideration what I've learned and all the roles I've had in more than 38 years, this is the best work I can do at this moment in my life. The job I am doing today is unique because I can put together my previous experiences and offer them all to my colleagues and guests that are coming here. I have built good relationships over the years and thanks to this, I can ask for support and get help.
People always tell me that I am enthusiastic in my work and in my life. I have had the opportunity to see a lot of things, meet a lot of people and make a lot of friends.
Why are you passionate about your role?
Fifteen years ago or so I was not in a good moment of my life at Electrolux and I prepared my resignation letter. When I gave it to my boss, he would not accept it. He took it to his bosses' boss who told me: "You are part of the company's heritage and history. Forget your resignation. Stay and if you are not happy, I will find something else for you."
In the end, I stayed. And I am happy that I did.
The Center of Excellence to me is not a showroom and not a kitchen, but it is a fantastic experience. It is one of the best business cards this company has. Our customers and visitors always leave having had an unforgettable experience.
What do you think it takes to succeed at Electrolux?
First of all, you need to be passionate. You need to know your business and be qualified. I am passionate because this is part is my personality—this is how I am in all aspects of my life.
Tell us about a particular time when you knew you were in the right role.
I joined at 18 and I've known this company for my entire career—I have always been sure that this (I was working for Zanussi when I first started) was a good company. Electrolux is a big company and gives you a lot of opportunities—you can travel around the world, and increase your  knowledge and experience so that you have the opportunity to take on new roles.
I've learned a lot of things thanks to working in international and domestic marketing, sales, area management, and more. I could not do the same thing over and over again—I need to always be challenged. If you change and learn, then your brain remains alive.
What has been your biggest success?
I am proud of everything I've done. Today, when I look guests in the eyes, I am proud of what I have created and what is happening here. Of course, there is always room for improvement. I want to learn until the last day of my life.
What do you do in your role?
I'm in charge of welcoming and hosting the guests and customers visiting the CoE at our Headquarters in Italy, and coordinating all the activities related to their experience. In my role I also support the implementation of the same experience throughout the other CoE across the world.
Stories of Electrolux: Four decades of challenges and adventures
2018-07-30T12:29:18+02:00