SCRAEGG GmbH con su SCRAEGG Pro destacó entre los competidores y se convirtió en el ganador de los Premios de Innovación Start Me Up de 2019. SCRAEGG Pro fue premiado en Host Milano 2019 durante la fiesta de reconocimiento de patrocinadores de la FCSI que se celebró en "& Restaurant" en Fiera Milano.
El objetivo de los Premios FCSI patrocinados por Electrolux Professional era exponer nuevos productos y conceptos lanzados por empresas independientes de reciente creación y premiar a la más innovadora.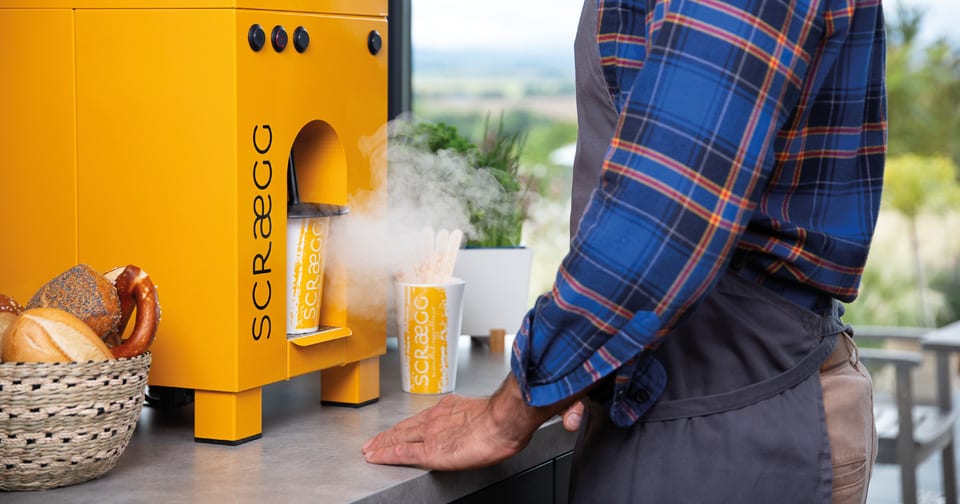 SCRAEGG GmbH fue creada en 2018 y tiene su sede en Wiesloch, cerca de Heidelberg, Alemania.
El nombre SCRAEGG significa «scrambled eggs» (huevos revueltos), pero pronto la empresa empezó a avanzar desde los huevos revueltos más rápidos del mundo a un equipo multitalento que ofrece a los profesionales de la restauración y el catering la posibilidad de satisfacer a los clientes de pie o en mesa. Así es como nació SCRAEGG Pro.
La unidad SCRAEGG Pro bate y calienta a 96° C con una boquilla de vapor para la que se ha solicitado una patente. En unos 15 segundos, se obtiene un delicioso huevo revuelto con una consistencia esponjosa y cremosa, sin necesidad de añadir aceite. Puede prepararse con huevo líquido o con huevo fresco. Sin embargo, SCRAEGG Pro hace mucho más que huevos revueltos y te permite preparar comidas ligeras en cuestión de segundos.
Download the Press Release to discover more about FCSI's  Start Me Up Innovation Awards, SCRAEGG GmbH and Electrolux Professional.
SCRAEGG Pro gana los Premios de Innovación Start Me Up
2019-10-21T12:03:04+00:00