Electrolux Commercial Exhaust Fans
Since 1871.
Production, precision and tradition for over 100 years.
Industrial Exhaust Fans
made for commercial-use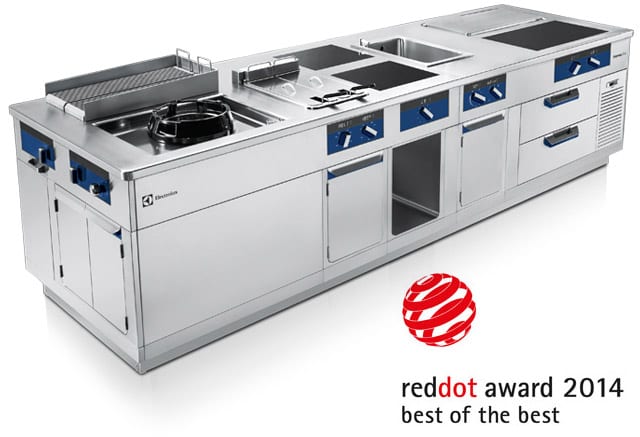 Create your ideal kitchen
Made to Measure is created to offer every top chef a partner for life, meeting the requirements of five-star hotels and fine dining restaurants with the latest professional technology and ultimate kitchen design.
Red Dot Award for Product Design

thermaline M2M has won the Red Dot Award for Product Design 2014, a prize that has established itself as one of the most sought-after quality marks for excellent design worldwide.
thermaline M2M has won the Red Dot Award for Product Design 2014, a prize that has established itself as one of the most sought-after quality marks for excellent design worldwide.
thermaline modular 80 & 90 commercial ranges
thermaline Modular cooking ranges boast a strong internal frame resistant to bumps and corrosion
Free-cooking top allows you to use both pots and pans and cook food directly on contact at the same time
The unique retro-illuminated glass display and the highly-visible LED digits, on electric version, provide full control of your operations.
The Thermodul seamless connection between cooking functions (ProThermetic boiling and braising pans included) avoids liquid infiltration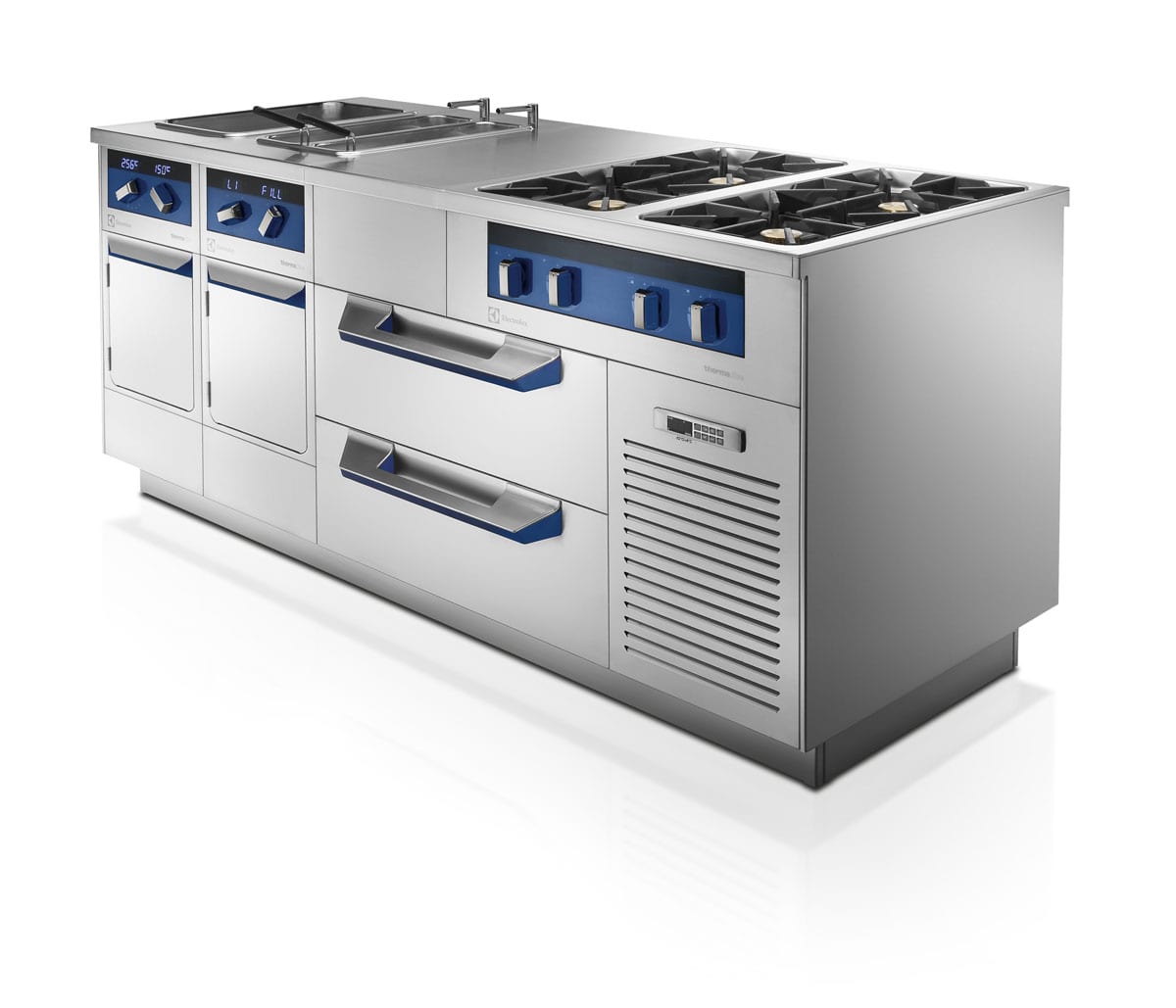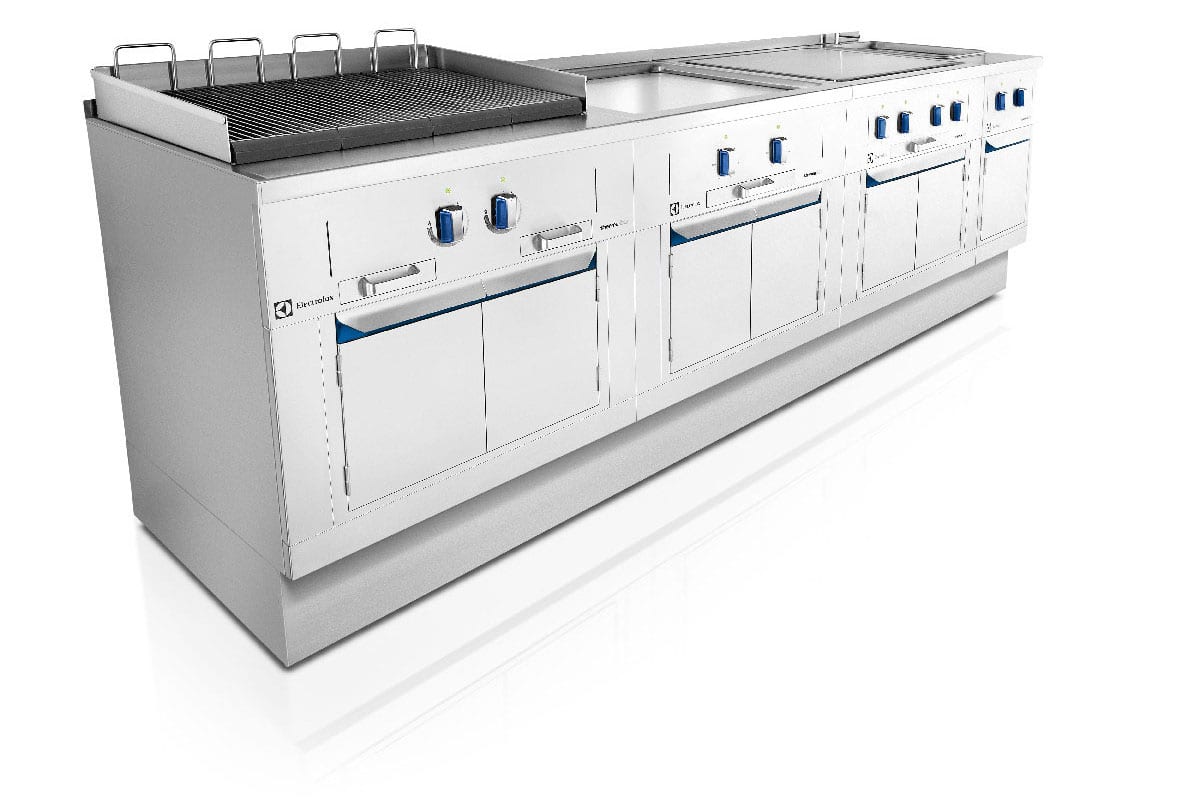 thermaline modular 85 commercial range
The most flexible modular cooking system offering multiple configurations (against the wall and back to back)
Infinite Possibilities
with M2M thermaline
Check out our 25 examples of
M2M thermaline Suites!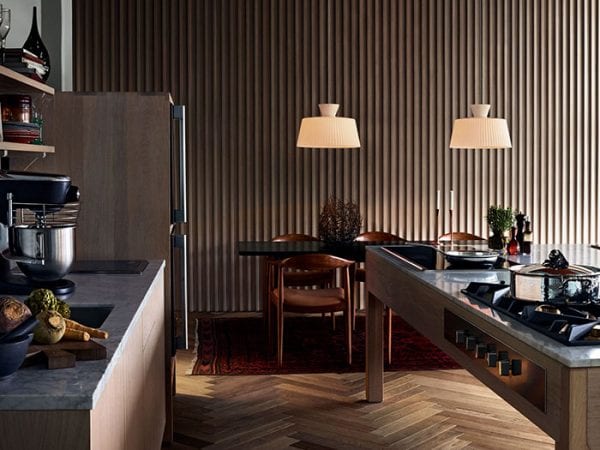 Electrolux
Grand Cuisine
Designed for "built-in/drop-in" installation in exceptional kitchens and can be combined with thermaline M2M
High-Quality Commercial Kitchen Exhaust Fans
At Electrolux Professional, we have carved out a reputation for supplying and maintaining the very best equipment that you can find in kitchens and laundries around the world. We have been working with the biggest names and the longest established companies in the hospitality, service, restaurant and healthcare services for nearly a century.
We work with organisations who are interested in delivering the very best quality service they can to their customers across a wide range of different industries. We cater to businesses of all sizes from bistros to five-star hotels, from serviced apartments to hospitals and from cruise ships to sports clubs.
Read More
Industry-Leading Exhaust Fans You Can Depend On
When your serving area is full of expectant customers, and there is a growing waiting list for table service, the kitchen area is at its busiest. These are the moments that all chefs and restaurant owners live for – a full house to impress with remarkable food.
However, with a capacity crowd comes the highest demand on the kitchen staff. When a chef's team is under the gun, they need to rely on their skill, their ingredients and their equipment to fulfil the chef's menu to perfection. No one can put a foot wrong; otherwise, they could compromise the delicate chain of culinary efficiency.
That is why we design commercial kitchen exhaust fans that are made to withstand heavy use and the test of time so you can depend on them when you need them the most.
Our Prestigious Awards
At Electrolux Professional, we take great pride in the quality of our products. This is reflected throughout the wider global industry through the outstanding awards that we have won year after year. Some of the latest awards that we have won include:
Good Design Award 2019
Red Dot Product Design Award 2018
The Carter Product Excellence Award 2017
The Plus X Award for the most innovative design 2016
Industrial Exhaust Fans Made Custom For Your Kitchen
If you are looking to upgrade your kitchen with commercial exhaust fans then there is only one place where you can find brand quality appliances that will deliver unrivalled performance for decades to come. Electrolux Professional is the global provider of industrial exhaust fans that you can count on. No other company can offer a complete facility-wide solution that covers everything your kitchen needs to reach its full potential.
If you would like to know more about how we can help you get the most out of your kitchen then why not check out some of our client testimonial videos on our YouTube channel. You can access them from our website and get a better sense of the excellent level of service, before, during and post-sale, that you can expect from us. Our dedicated client service agents are on hand to field any questions or queries that you may have and point you in the right direction. Don't delay, get in touch with us today.
We are proud to be known as the premier global brand that businesses trust to get the job done. We supply Australia with industrial ovens. Additionally, we specialise in delivering high-quality commercial fridges & refigerators and commercial fridges in Melbourne. Don't hesitate to contact us for more information.
Read Less
Get in touch with our team of experts and find out what Electrolux commercial exhaust fans can do for your business
Exhaust Fans
2019-07-21T23:23:19+00:00
Filter (115 Products)