Cooking clever
University catering operations are increasingly tasked with providing nutritious and appealing meals to both students and staff, with a variety of different dietary requirements. Head Chef at the University of Chester, Chris Murphy, understands how important a diverse menu offering is in persuading students to eat on-campus.
We paid Chris a visit to see how he approaches this challenge, and look at how his kitchens use the latest equipment to satisfy student demand.
Universities are a melting pot of ideas and cultures, thriving on the variety of backgrounds that their students come from. The University of Chester is no different, and its proximity to Chester city centre complements this to create an institution grounded in diversity.
However, this fusion of cultures presents a challenge to the university's various catering operations. Gone are the days of pot noodles and crisp sandwiches, with the modern student expecting nutritious and tasty food as a minimum, matched to a range of dietary requirements. Being so close to the city of Chester means the university must work even harder to encourage students to eat on-campus.
Chris Murphy, Head Chef at the University of Chester, explains: "We know that we have to serve high-quality food in order to appeal to students, which is why wherever possible we aim to cook from scratch every day, using raw ingredients sourced from either local or national suppliers.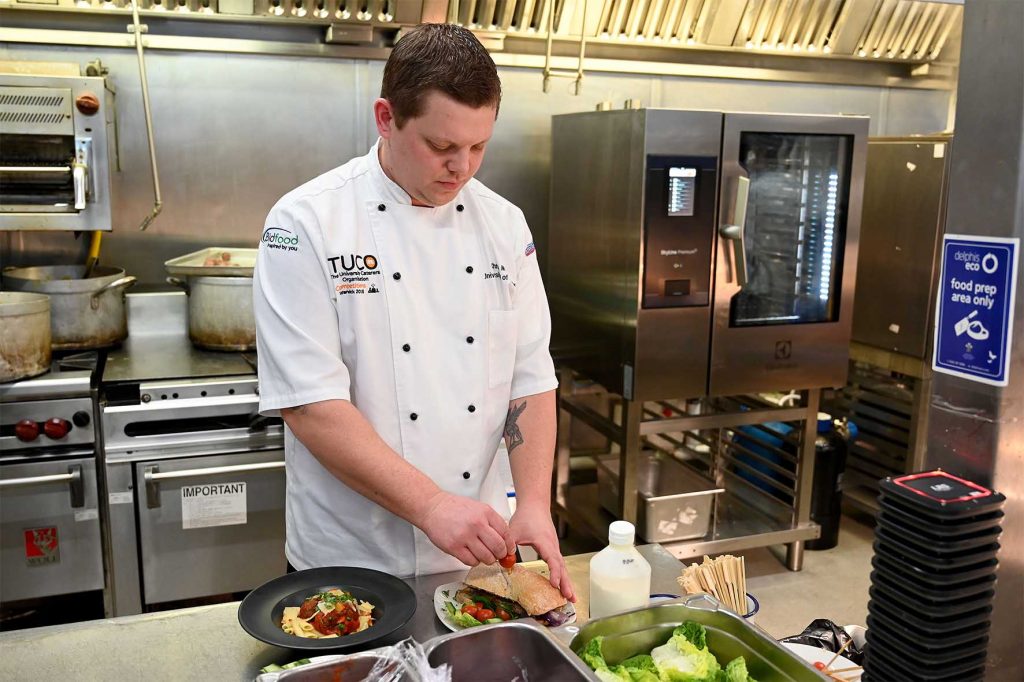 "We've got eight different sites across the campus, and each of those has its own feel, with an offering that is unique to that location. There's a demand for variety – whether that's a better vegetarian option, gluten-free, or just a wide choice in the meals on offer – and if we don't provide that, students are just going to walk to a restaurant in town."
Eager to upgrade his kitchen to meet this demand, Chris attended the TUCO conference in 2019 to take a closer look at the options at his disposal. The top priority was finding a suitable combi oven, a versatile piece of equipment which is often described as the heartbeat of a busy kitchen.
A meeting with Electrolux Professional presented the opportunity to get hands-on with its SkyLine PremiumS combi oven, allowing Chris the chance to spend a day with the equipment and trial its various features:
"It was great to get up close and personal with the SkyLine, putting it through its paces to make sure it was up to our standard. What stood out straight away was just how simple it was to use, everything is pictured up and the display makes the different functions really clear.
"There's enough features on there to suit anyone's needs, but one that really works for us is the dehydration setting. After a quick run through with Electrolux Professional's  development chef, we're now able to make dehydrated fruits in-house, which was a product we had previously always bought in. We use them in a number of different ways, from making our own granola to garnishes meals and desserts."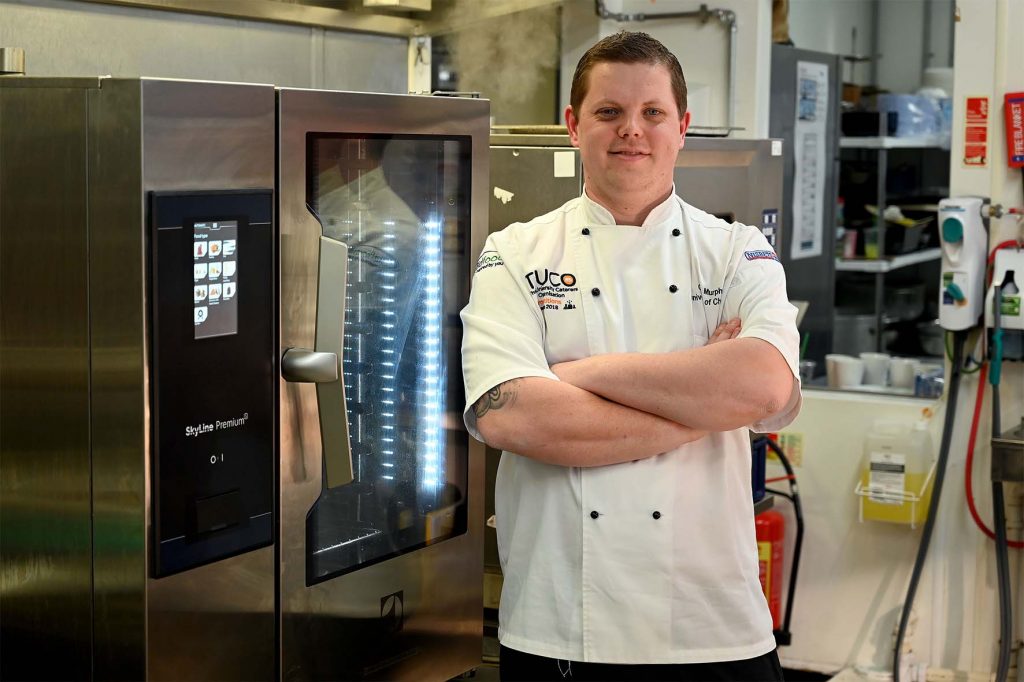 The performance of the SkyLine PremiumS combi oven is underpinned by its in-built connective technology, which enables it to be remotely monitored via Electrolux's the OnE online portal. All data, from running costs through to recipe programming, is fed into the portal, which is invaluable for sites with multiple kitchens such as the University of Chester.
A pleasure to work with
Versatility and efficiency are the pillars upon which high-performance combi ovens are designed, but an often-overlooked factor is ergonomics. The SkyLine range of combi ovens is the only foodservice appliance series to be recognised with Ergocert's pioneering 4-star certified ergonomics, a critical feature in a busy kitchen where operators work long, hard hours.
Chris concludes: "The chefs actually fight over who gets to work in the unit where the SkyLine is, which says everything about how easy it is to use. They know they can do their best work on the oven, producing such a range of food without compromising on quality.
"You know you've got a good piece of kit when the team is crying out for a full range of them. We're delighted with the way it's worked so far, and it's ensured we can continue to offer a competitive, diverse range of menus to the students."
Chester University
2021-02-08T22:48:21+00:00