Lower energy costs and increase efficiency without compromising on speed with Electrolux Professional's tumble dryers.
As the cost of electricity continues to rise, energy prices are putting a strain on many laundry businesses. Commercial tumble dryers use a lot of power – more than many other appliances such as dishwashers, washing machines, and refrigerators. In fact, in-house laundries can use around 10% of the total energy used at a site. So, any way to increase efficiency is a welcome relief for businesses.
Some easy practices to save energy costs in the long term
There are several ways to save energy and money, increase efficiency, and improve your environmental performance when using commercial tumble dryers. Below you'll find different ways to save energy costs ranging from no initial cost to larger upfront costs that then save you money in the long term.
Establish optimum load sizes to maximize efficiency
Turn off and isolate the steam supply to equipment when not in use
Minimize the moisture content of items going into the dryer
Install timers on boilers and water heaters to minimize energy waste
Insulate dryers, steam delivery, and condensate return lines
Use steam coils for indirect heating and install a condensate recovery system
Perform regular maintenance to your equipment to save downtime and losses, including checking hose connections, unions, couplings, valves, door gaskets, seals, and pumps regularly for leaks
Install a heat exchanger to recover heat from discharged hot water and use it to pre-heat incoming cold water for the boiler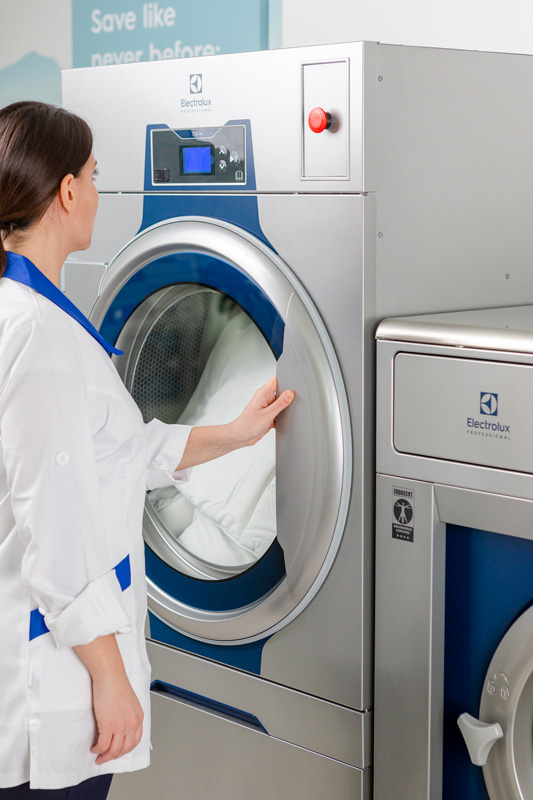 How to enjoy energy savings of 60%
If you're looking to update your appliances, it's possible to enjoy energy savings of more than 60% by just improving the technology you use. The Electrolux Professional line 6000 commercial tumble dryers are an energy-saving solution that incorporates multiple elements to consistently reduce drying times (they have the shortest drying time on the market) and, consequentially, saving energy.
The tumble dryers are designed with the user in mind and handle large volumes in a short amount of time, without compromising on energy efficiency. In fact, no other heavy-duty tumble dryer can handle the same volumes in the same amount of time.
How a heat pump dryer works
The Electrolux Professional Line 6000 Tumble Dryer is made with energy efficiency in mind. It uses an adaptive fan control that effects fan speed to save energy and reduce drying time. If you have more than one tumble dryer and your ventilation duct has a constant diameter, the adaptive fan adjusts the fan speed to keep air flowing efficiently. It also makes the fan last longer, with that durability saving you time and money.
As a heat pump dryer, as opposed to a traditional dryer, it can be installed anywhere thanks to plug-and-play capabilities. It doesn't require an exhaust or a water cooling system and can operate at an ambient temperature between 10° C and 45° C, ensuring 60% in energy savings.
Final thoughts
While energy prices are rising, there are still ways for commercial laundries to improve energy efficiency. As well as taking steps to optimize performance, investing in energy-efficient appliances such as the groundbreaking Line 6000 Tumble Dryer can make a huge difference. By designing commercial tumble dryer solutions that can offer a 60% saving in energy, Electrolux Professional is helping businesses make efficient decisions that improve their bottom line.
How to save energy with commercial tumble dryers
2022-11-25T09:47:36+00:00