A space to feel good in
Turn your needs into a bespoke design, make your guests feel at ease. Whether you are a hotel, a school or a business, imagine presenting your guests with a memorable food experience in an inspiring environment.

HERO
in Design
To fit any environment style

HERO
in Display
Illuminate your food,
light up your appetite

HERO
in Sustainability
Save on energy and costs
but never on choice

HERO
in Flexibility
Impeccable servery solutions for your professional needs
Flexy Compact & Compact JR
Deliciously adaptable flexible servery solution
Compact and multifunctional, designed for the perfect fit – Electrolux Professional have created a flexible line of impeccable servery options for your professional requirements.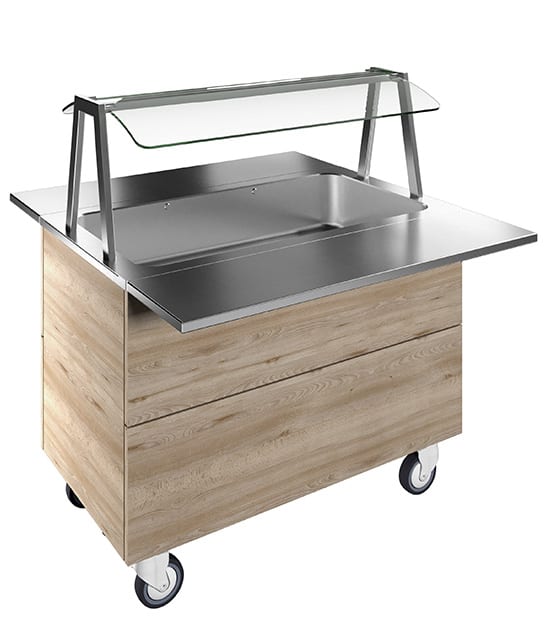 Cleaning made easier
Say goodbye to tricky cleaning. With your food now displayed in a sleek, minimalist, glass structure, food and dust no longer get trapped so that cleaning is made easier and done in less time guaranteeing spotless hygiene.
Hero in flexibility
Overshelf structure:
Curved, Flat or L Shaped?
Electrolux Professional stainless steel overshelves offer you the optimum amount of food visibility for traditional and free flow service requirements. Make the right choice.

"A" shaped Curved glass on the overshelf for maximum food visibility and hygiene barrier

"A" shaped Flat glass. Elegant overshelf for faster service

"L" shaped overshelf for operated type of service
"A" shaped solutions for island servery
"L" shaped solutions for operator service.
Tray slider – what's
your best level?
Choose the tray slider option that suits your business whether at counter top level or the lower version, tubolar or stainless steel, our Flexy Compact has what you need.


Mobile or
stationary?
More choice and flexibility:
choose between a mobile (wheels) or stationary (legs) servery solution.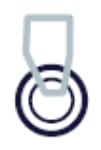 Infinite colours to choose from
Electrolux Professional has reated a choice of customizable servery designs for all your catering needs, whether hotel, school or college canteen, company dining room or other food distribution service. Flexy Compact has the solution.
We understand the importance of eating in a comfortable and shared environment which accurately reflects your company's values.
With this in mind the Compact surfaces can be personalised by choosing between the various features and more than hundreds of colours and different wood effect finishes.
10 functions in 3 sizes…
Unlimited possibilities
for your business
Hot, cold and hybrid – whatever your clients' needs we have the solution.
The beauty
of food
We Eat With Our Eyes
Lighting has one of the greatest impacts on a customer's dining out experience.
Studies* have shown that a welcoming environment with the right lighting forms the basis for a satisfying experience and helps customers in their choices, making your food look more delicious and tempting.
LED technology takes this to another level, so not only will you and your business save energy, but the full freshness and beauty of your food is even more appealing providing your customer with even more satisfaction.
Supreme serving
solutions!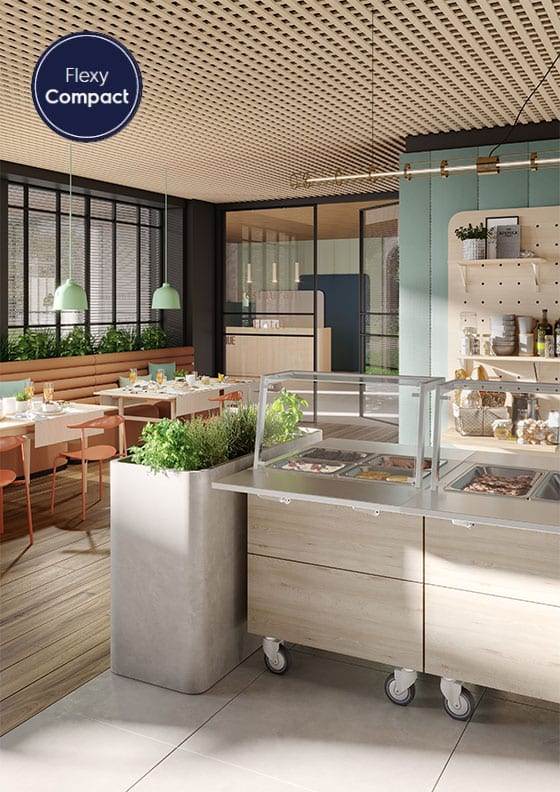 For a supreme breakfast experience Electrolux Professional offers a great choice of flexible options for your servery, whatever your type of small hotel or canteen business.
Customizable combinations with hundreds of colours to choose from and drop-in functions to compliment and personalize your dining interior. Optimised multi-functionality allows you to not only choose between mobile or stationary servery, but also gives you peace of mind for immaculate hygiene.
A fitting
choice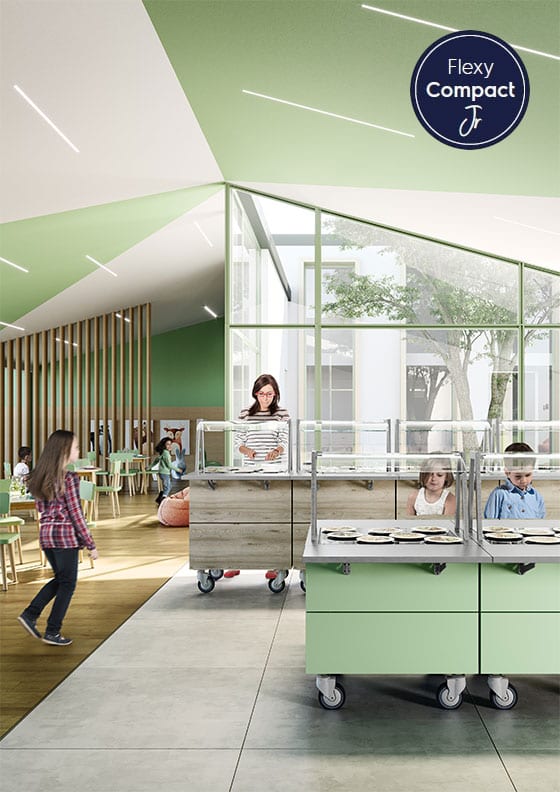 Perfectly designed with both adults and children in mind. Electrolux Professional offers two heights to meet your business needs: Flexy CompactJR at 75cm for school children and Flexy Compact at 90cm for teenagers and teachers.
Add that to the multitude of options, you can create servery solutions that are fresh and colorful, easy to operate and clean, making your operators and students meal experience comfortable and easy.

82% less warm up time!* Save on energy and costs but never on choice. Electrolux Professional Air-Ventilated Bain Marie for all your hot food options.
Air-Ventilated Bain Marie
sustainable and cost effective
all in one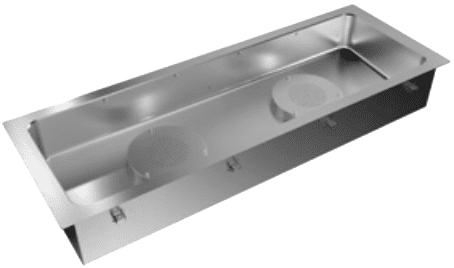 No more water
Bain Marie as it's never been seen before. Air-operated Bain Marie means no more water! This way you reduce operating costs & installation whilst
maintenance is made easier.
Instant heat
Reduce energy consumption and warm up time. Now in only 16 minutes & you're ready to go!
Save up to
407€/year*
Up to 90% energy saving during warm up
Up to 35% energy saving during operation!
Electrolux Professional Ventilated Air Bain Marie consumes daily less energy than Electrolux Professional Water Bain Marie *Calculation based on running costs, according to Afnor testing procedure. Data available in April 2020. (EU average energy cost of 0,21 €/kWh).


Keep your fresh food perfectly cool with a wide range of cold functions – from salads and cheeses to cold meats and fruit.
Cold Food Displays, inclined
shelving for optimum visibility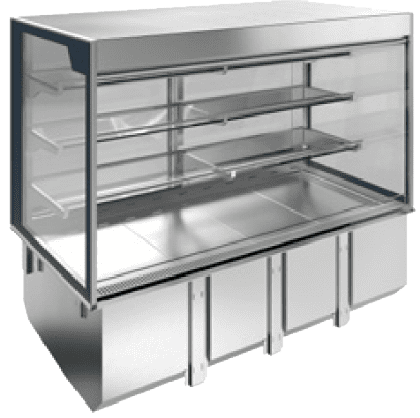 Cold Well functions
for constant & uniform cool temperature distribution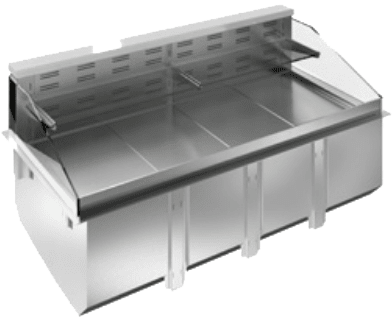 Contact us to discover what our
Flexy Compact & Compact JR can do for your business
Find your complete solution
Electrolux Professional Flexy Line
2020-07-21T21:08:33+02:00