Workshop in Chemistry of Smoking linked with Cook&Chill for Restaurants, Hotels and Catering Business.
Hosted by: Chef KK, Worldchefs' Chef2Chef ambassador and Daniel Schneider, Electrolux Professional Chef Academy in Singapore.
Dress code: Chef Whites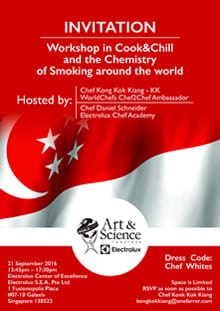 The Aim of the Workshop
The workshop will focus on the different smoking techniques linked to Cook & Chill system, a new technology that incorporates an oven and blast chiller in a single solution. This innovative approach to sustainable cooking also improves chefs' daily activities, food cost, food waste and the ability to be more independent to suppliers. The aim of the workshop is to build on, and extend the range of skills, techniques and knowledge on hotel, restaurant and catering operations previously acquired. This session aims to build on current technical practices and create new culinary knowledge, skills, and techniques using "Smoke" in different ways to enhance the food item and the menu.
The key features and benefits of Smoking and Cook & Chill system include:
The possibility to be creative, using "Smoke" in your menu
Being less dependent on supplier who sell smoked items
Higher levels of food safety
An optimized work process incorporating the latest technology
Reduction in food loss and, ultimately, food waste
Higher profitability for the food service operation
Learning outcomes:
On completion of this practical session participants will have acquired the ability to:
Understand a food cost & control the profitability in operations
Maximize the use of Cook&Chill system in Hotel, Restaurant and Catering operations
Reduce the weight loss & control the food texture using Sous Vide cooking technology and low temperature cooking process
Standardize & monitor the food quality & safety in bulk operations achieving consistency
Focus on innovative equipment in Hotel and Restaurant operation in order to increase productivity & improve the workflow
Learn to manage rethermalization process in order to achieve consistency, sustainability & quality during a la carte or banqueting operations
How to use different accessories such as the "Vulcano Smoker", Sous Vide food temperature probe
Workshop in Chemistry of Smoking in Singapore
2016-09-01T15:48:46+02:00