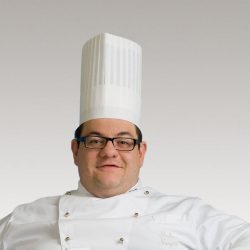 Ingredients
Beef sirloin 1 kg
Salt, black pepper
Extra virgin olive oil
Squid ink
Caramellzed onions:
Red onions
White wine vinegar
Granulated sugar
Water, salt and pepper
Flavored oil:
Lime essential oil
Extra virgin olive oil
2 limes
Fresh white asparagus
Preparation
Remove all fat from the sirloin and clean it thoroughly, then season it with salt, pepper and extra virgin olive oil and cook in the air o steam Touchline in LTC at 54 °C at the core.
Once cooked and blast chilled, remove the outer skin and cut it into cubes of 3 or 4 cm.
Place everything in a steel bowl and add 2 packets of squid ink stirring well until everything becomes uniformly black. Store the meat in a vacuum bag and let it sit for a couple of hours in the refrigerator at 4 °C.
Meanwhile, put 300g of olive oil with the peel of 2 limes (green part only) in a vacuum cooking bag Vacuum store and then steam at 65 °C for 1 hour so to obtain oil flavored with lime that will be used to flavor the raw asparagus.
Peel the lower part of the asparagus, cut them into slices lengthwise and then, after they have been cut in half horizontally, batonnet-cut them, and then put them into water and ice.
Peel and cut the red onions into julienne, place them in a saucepan with sugar, white vinegar, and water, let evaporate until the liquid becomes syrupy taste, and then season with salt and pepper.
For the presentation, sear the black beef in a skillet and place it over the asparagus previously seasoned with salt, pepper and lime oil. Arrange the beef cubes on top and add the caramelized onions, as shown in the picture.
Give a look at these ideas, you may like them:
Black beef
2016-10-30T15:32:54+02:00