Location: Dubai
Trainers: Chef Andy Cuthbert, Chef Silvano Costantini (Electrolux Chef Academy)
Dress code: Chef Whites
Continuing with the Cook & Chill as the concept & the main technology behind all seminars the topic of the upcoming Seminar would be :Differently cooked: Eat raw fish in a healthy way using blast freezing technique together with Sous Vide, Curing, Cold Smoking and much more.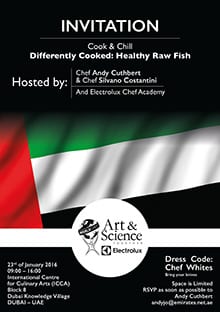 The Aim of the Workshop
The workshop will focus on the Cook & Chill system, new technology that incorporates an oven and blast chiller in a single solution. This innovative approach to sustainable cooking also improves chefs' daily activities.
The aim of the workshop is to build on, and extend the range of skills, techniques and knowledge previously acquired. This session aims to build on current technical practices and create new culinary knowledge, skills, and techniques in the art of sous vide cooking in modern day cuisine and culinary arts.
Workshop in Differently Cooked: Healthy Raw Fish
2016-01-15T16:25:04+02:00