The Wascator FOM 71 is the reference machine for washing performance tests in the appliance industry and for textile-testing. It provides flexibility, traceability and repeatability thanks to a precise speed control, highest accuracy of bath temperature and excellent water-filling accuracy.
Product Features
Meets IEC and ISO international standards

Suitable for testing washing effects of detergents and chemicals and for textile quality control

Suspended drum construction allows a high extraction force. No foundation required

Dual water control of volume (weight) and level
Built in scale for precise volume control, accuracy: - volume control +/- 0.2 litre/bath - level control +/- 0.8 litre/bath

Equipped with Clarus Control® - a fully programmable electronic timer

Frequency controlled motor system for flexibility in programming and precise speed

Test tap for water samples
Stainless steel drum assembly, front, side and top panel
Specifications
Main specification
Max. capacity, filling factor 1:9, kg/lb 6/13
Drum volume, liter 61
Drum diameter, mm 520
Extraction, rpm 1100 RPM
G-factor 350
Dimensions
Width: 720 mm
Depth: 690 mm
Weight, net kg 160
Height: 1315 mm
Documents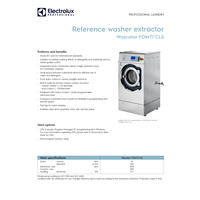 Wascator FOM71CLS
(344,72 KB)
Product Support
Do you need support
for this product?
Get in touch with one of our Service Partners.
Interested in
this product?
Select on the map your area and get in touch with one of our Sales Partners
Do you own
this product?
You may be interested in user manuals. Please login and then click here to find out manuals.
Let us provide more for
your business!
Register your product and let us provide you with our best contents and customer care.