Manufacturer marks fifth year of successful partnership with Northcote
Electrolux Professional has been unveiled as the headline kitchen sponsor for Obsession 20 – Northcote's annual festival of gastronomy.
The event, which will mark Obsession's 20th year, will see a cross section of elite chefs from around the world descend on the 4AA Red Star Lancashire hotel and Michelin Star restaurant in January and February of this year.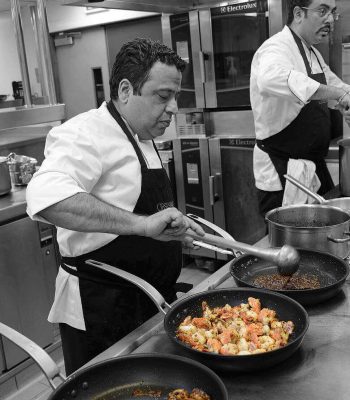 It is Electrolux's fifth consecutive year sponsoring Obsession and third consecutive year sponsoring the kitchen, with new innovative equipment on show it couldn't have been a better partnership.
Northcote is one of the most prominent installations Electrolux Professional have in the UK featuring a made to measure thermaline cooking suite comprised of a bespoke island featuring two planchas, each with four independently controlled zones; two induction hobs; a bain marie; and a rise and fall salamander grill.
The kitchen also has a new addition this year; the all new Electrolux Professional SkyLine Combi Oven and Blast Chiller. Two Ergonomic and versatile pieces of equipment which are able to communicate to each other during each cooking cycle to ensure the process is as streamlined as it possibly can be. Their certified 4 star ergonomic design makes it is easy for chefs to use and can reduce injury related sick leave by 75%. A first in the industry. From cooking whole chickens to making yogurt the SkyLine cook&chill system is capable of creating consistent and high quality food.
Friday 24th January
Lisa Goodwin-Allen
Saturday 25th January
Gareth Ward
Tom Brown
Kirk Haworth
Sunday 26th January
Dieter Koschina
Hans Neuner
Monday 27th January
Sat Bains
Paul Cunningham
Tuesday 28th January
Richard Corrigan
Wednesday 29th January
Phil Howard
Ben Marks
Thursday 30th January
Angela Hartnett
Neil Borthwick
Friday 31st January
Prateek Sadhu
Saturday 1st February 
Monica Galetti
Sunday 2nd February 
Jacob Jan Boerma
Monday 3rd February
James Knappet
Tuesday 4th February
Claude Bosi

Wednesday 5th February
Rick Stein
Brian Turner
Nigel Haworth
Thursday 6th February
Stephen McLaughlin

Friday 7th February
Ken Hom

Saturday 8th February
James Martin

Sunday 9th February 
Nigel Haworth
Electrolux unveiled as main kitchen sponsor for Obsession 20
2020-01-23T14:20:42+00:00