Butternut Squash Soup with Brown Butter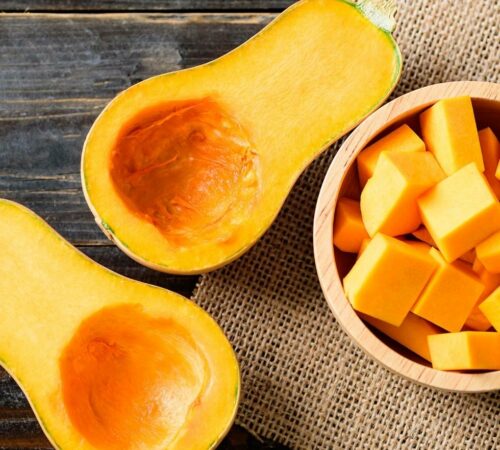 Ingredients
3 lb Butternut squash
3 sprigs Sage
6 cloves Garlic
2 ea Onion med dice
2ea Carrots Med dice
1 lb Unsalted butter
6 cup Vegetable stock
2 cup Heavy Cream
¼ cup Canola oil
¼ cup Real maple syrup
Procedure
Clean and peal squash then dice to 1 inch
Toss with canola oil and transfer to a parchment lined baking pan. Toss onion, carrot and garlic in canola oil and spread evenly on a parchment lined baking pan. Roast all in the SkyLine combi oven until cooked and golden brown 375F 45min to 1 hour.
Melt butter in pot over medium heat with all the sage. Continue cooking until the butter begins to foam and the milk solids start to brown. Remove from heat and pull sage out on a paper towel to drain, save butter for later.
Transfer cooked squash, onions, carrots and garlic to Trinity Pro and pure until smooth. Poor pure into a stock pot add 3 cups of vegetable stock and combine using a stick blender. Continue to blend while slowly adding the brown butter to emulsify. Once butter is emulsified slowly add heavy cream.
Check consistency and add more vegetable stock until the soup is not too thick. Check seasoning and add salt as needed. Transfer to a serving bowl and top with the saved fried sage and a drizzle of maple syrup.
Butternut Squash Soup with Brown Butter
2022-09-23T16:49:01+00:00