Smart solutions for Customer business needs
Rigorously tested by Electrolux experts, our original Accessories & Consumables guarantee the best performance of your appliances. An added value to your business, since durability and efficiency of your machines are ensured. By using original Accessories & Consumables, your equipment performance  remains at highest quality, increasing efficiency and profitability.
Coronaviruses: Scientific studies on inactivation
Infectivity of Coronavirus is sensitive(1), (2) to:
► Chemicals with extreme pH values (highly acid or highly alkaline)
► High temperature exposure for a certain period of time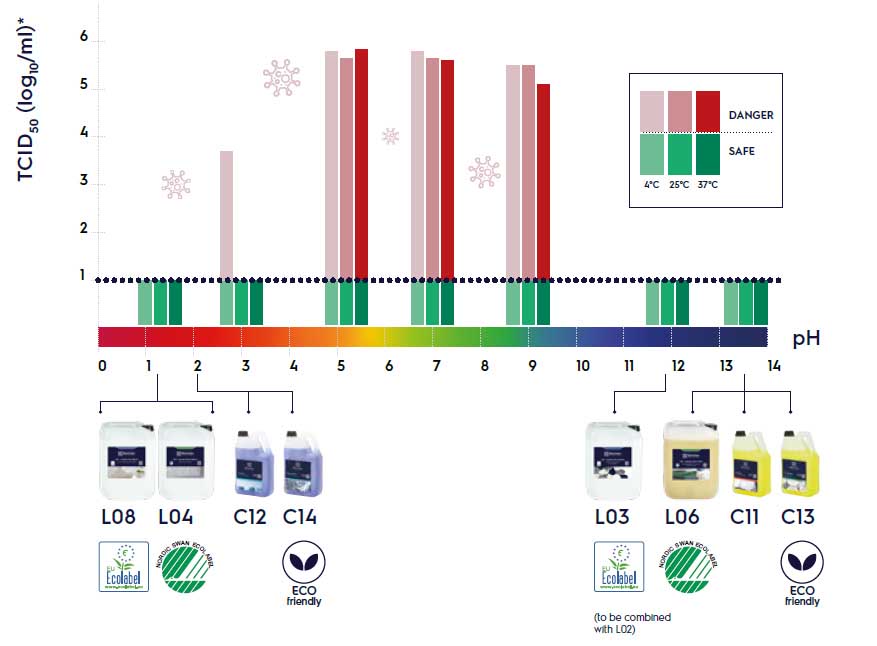 Combining our appliances to our selected chemicals can provide a valid
and effective solution to provide you, your customers and your staff with
the confidence that their well-being is safeguarded at all times.
* Logaritmic scale of coronavirus concentration after chemical substance and temperature exposure. Please note that safety is below the
concentration line of log10(1) which corresponds to zero units.
(1) M. E. R. Darnell et al., Inactivation of the coronavirus that induces severe acute respiratory syndrome, SARS-CoV, Journal of Virological Methods 121
(2004) 85-91
(2) Bio Basic Europe, Bibliographic verification aimed to assess the virucidal efficacy of processes and products used during washing and rinsing cycles
with Electrolux Professional dishwasher, 17th July 2020
Can't find what you need? Get in touch with our Partners in your area
Loading...
Original Accessories & Consumables
Leading the way in quality, we provide you with original Accessories & Consumables to ensure hygenic performance and results.
Longevity
quality
performances
We put emphasis on product performance lifecycle. Our Accessories & Consumables ensure quality and consistency of the performance.
Worldwide
fast
dispatch
Our extensive global stock and distribution network ensure that your genuine Accessories Consumables will reach you in a timely manner.
Contact us for more information about our accessories
Accessories and Consumables
2016-08-25T08:47:14+00:00