Washers, dryers and steam ironers for small businesses
Are your domestic machines simply not fast and sturdy enough?
Are you looking for a more professional laundry solution on a sensible budget?
myPRO is the Electrolux Professional solution for small businesses in need of washers, dryers and steam ironers that are stronger and faster than standard domestic appliances.
 Long life – 3 times longer *
 Superb Speed – up to 50% faster **
 Great results every time
 Maximum flexibility – thanks to professional programs
 Warranty for professional applications – according to local regulations
* Compared to domestic machines
** Washer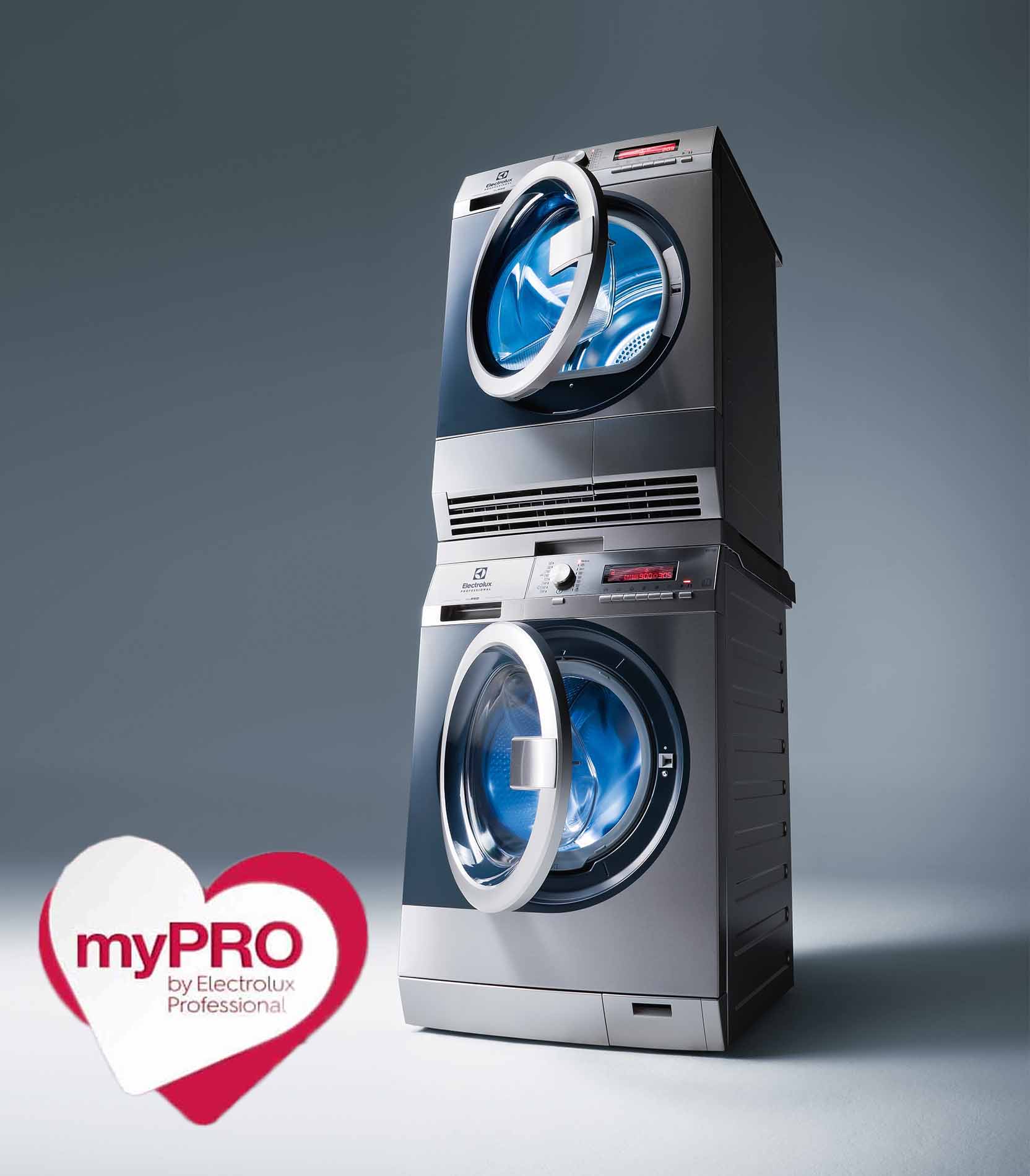 Low consumption, extra savings
Electrolux Professional helps you to save both money and energy
Durable and affordable solutions for small businesses
Hairdressers, beauty salons, B&Bs and care homes may need professional laundry solutions that are faster and more durable than domestic machines.

Top quality, long life
Washers and Dryers designed to last 3 times longer than domestic machines with a variety of professional programs for the best wash results and garment care.

Save water, energy and money
SpeedCare drum for best-in-class dewatering, cutting cycle time and costs, and shorter drying cycle with Automatic Moisture Control.

Superb hygiene and maximum convenience.
Easy-to-clean stainless steel top and front with specially designed large door. All the benefits you need on a sensible budget.
Choose the laundry solution that meets your needs
myPRO online assistant
Get the best out of your myPRO and myPROzip washer, dryer and ironer.
Find in this page a collection of video tutorials, frequently asked questions (FAQ) and additional online help.
Register your products and find additional accessories and consumables that help getting the best out of your washer, dryer and ironer. Feel free to get in touch with an expert, in case you need additional support.
The Professional heart for small Hotels, Bed & Breakfasts and Restaurants
Tough stains on tablecloths, high outsourcing costs, getting bedlinen washed, dried and replaced in time – all of these are everyday issues for small Hotels, Bed & Breakfasts and Restaurants as domestic Washers and Dryers often can't meet their needs.
The Professional heart for Facility Management companies
When it comes to washing mops and cloths for office cleaning, domestic machines can't meet their needs because they often break down due to fluff and gravel. So getting your mops clean enough to pass audits is a challenge.
The Professional heart for Hairdressing and Beauty Salons
Slow programs and clogged drains are everyday hindrances in the hair and beauty industry when domestic Washers and Dryers can't meet their needs.
The Professional heart for Sport and Fitness clubs
For sports clubs, ensuring clothes and towels are clean and fresh in time to be used isn't always so simple. Stubborn grass, dirt and sweat stains are often more than ordinary household appliances can handle.
Contact us to receive information on myPRO washer, dryer and ironer for small businesses
Where to buy myPRO solutions
Looking for more productive solutions?
Go and see our commercial laundry solutions
Electrolux Professional provides an all-round range of products for your professional laundry needs.
Discover our Commercial Laundry Solutions
myPRO, washers, dryers and steam ironers for small businesses
2019-10-10T09:30:13+00:00