900XP & 700XP Fry Tops
Discover the benefits of cooking on chrome

Cooking on the polished chrome, mirror finished surface avoids the mixing of flavors when passing from one type of food to another. Rapidly vary menus and satisfy customer demands thanks to the fast and easy cleaning during service.

Cleaning made easy thanks to: 1-piece pressed cooking surface with rounded corners, large drain hole and removable 3-sided splashback.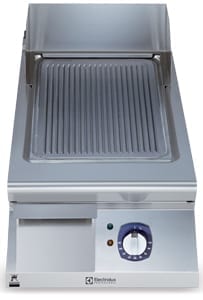 Rough brushed chrome surface is highly resistant to scratches and facilitates cleaning operations at the end of the day. e.

The chrome surface allows a savings of more than 10% in energy consumption during the pre-heating phase and approximately one third in stand-by, compared to mild steel surfaces. In addition, cooking on contact, results in less heat dispersion for a better working environment.

Electrolux Professional Fry Tops fully comply with the European Food Contact Materials Regulation (EC) No. 1935/2004
Models with thermostatic control for precise temperature regulation and reduction in the amount of emissions generated by the food due to minimal "over shooting" of temperature on the cooking surface, resulting in a healthier and more comfortable working environment.
Choose from a smooth, ribbed or mixed (smooth/ribbed) cooking surface according to your needs. Available with sloped or horizontal plate (ideal for shallow frying).
Boost your business with Electrolux Professional Fry Tops
900XP & 700XP Chrome Fry Tops
2019-11-27T15:15:07+00:00