High Speed Cooking and Boundless Menu Options — No Compromises Here!
When it comes to the kitchen, professional chefs and cooks mean business. That means high-expectations are the norm—whether you're talking exceptional ingredients, top-notch culinary staff, or amazing equipment. It all comes together so kitchen staff can make magic in the kitchen. Of course, most chefs would agree, adding some extra speed is the final element that really pulls it all together.
The innovative piece of equipment that can help your team fill hot, quick service orders quickly (and make customers happy) – the Electrolux Professional SpeeDelight high speed cooking solution. Any chef in a fast casual restaurant, little lunch spot, or bistro knows processing and preparing customer orders quickly is priority number one. Alongside delicious food, of course!
Customers who frequent these mainstay establishments do so because menu items are as-promised, consistent, and please every time. If that sounds like your coffee shop, deli, or bar customer, SpeeDelight is the extra tool you need to produce great results easily and reliably every time.
Chefs Love SpeeDelight in their Kitchens!
Reason #1 — Speed
As its name implies, when SpeeDelight part of your professional kitchen, you're ready to deliver exactly what your customers expect, and quickly! No matter who you are, we're all pushing to accomplish everything on our list each day. Grabbing a quick midday lunch or snack with friends or easy dinner out is no exception.
When you have the SpeeDelight high speed cooking solution in your arsenal, you'll cook items three times faster than with other ovens you may be using. It is highly efficient and uses Electrolux Professional Triple Play technology. This feature makes for delicious, perfectly cooked paninis, appetizers, and small plates every time.
Proprietary Triple Play technology combines three forms of cooking into one, to effortlessly handle the quick menu items your customers want. The direct cooking method (contact plates) and two forms of indirect cooking (infrared and microwaves) ensure items are cooked properly throughout. Crisp on the outside, warm and soft on the inside—your pub snacks will be in a category all on their own. When lunch rush or happy hour happens, you're ready to move those warm orders with ease. Bottlenecks are a thing of the past.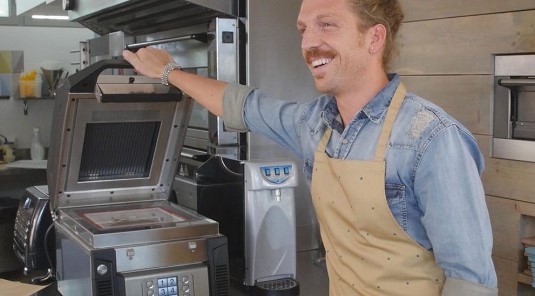 Reason #2 — Quality Results
The Electrolux Professional SpeeDelight cooking solution combines speed with consistent cooking results your customers will look forward to. Its innovative design includes Perfect Squeeze technology, allowing the upper cooking plate to settle and open automatically when that grilled sandwich is just right.
Another great feature comes in handy when the kitchen gets busy and things get hectic. You'll never need to worry about burning food or other safety hazards with SpeeDelight. Select a cooking program for a particular menu item and walk away to complete the rest of the ticket – SpeeDelight handles the rest!
Reason #3 — Versatility
The only thing limiting the quick bites you can prepare with SpeeDelight is your imagination. Encourage kitchen staff to create fresh new menu items each week perfect for small plates, street food, or tapas. This compact piece of equipment goes beyond just simple grilling and heating. Sweet and savory menu options are equally suited to its versatile capabilities.
Plus, there's no need to be concerned with extensive training or kitchen skills. Novice and expert chefs alike will appreciate the cooker's plug-and-play format, along with a wide range of pre-set options. Not sure where to place the unit in your commercial kitchen? No worries there, this is a mighty kitchen appliance in a tidy package. Find a sturdy, flat surface and you're ready to go!
When you're ready to amp up your menu, boost expediting, and create new items that promise to wow your customers, look to SpeeDelight. Café, Pub, Diners, and Street Food Chefs —it's a whole new game!
Get in touch with our team to learn more about how SpeeDelight can revolutionize your business.
Three Reasons Why Chefs Love SpeeDelight from Electrolux Professional
2022-09-27T14:41:55+00:00