Speed, Quality, and Creativity – No Compromises with this High-Speed Solution
An element of speed is always a factor in any professional kitchen. Of course, this varies if an establishment provides a fine dining or quick service experience. But when guests choose your fast casual restaurant, pub, bistro, or coffee shop – high speed cooking is what it's all about! Your loyal customers come to your place for the popular menu items they love – and they rely on quick, efficient service time. Pronto! That's where the Electrolux Professional SpeeDelight high speed cooking solution steps in to help you exceed customers' high expectations and drive higher daily output.  
What is the Electrolux Professional High Speed Cooker?
The SpeeDelight High Speed Cooking Solution is like having three cooking systems in one tidy, high-efficiency package. It cooks your items three times faster than other equipment you may have been using. For a perfect cooking result every time, this amazing piece of equipment uses Electrolux Professional Triple Play technology combining direct cooking (contact plates) and two kinds of indirect cooking (infrared and microwaves). This means cold, undercooked ingredients are a thing of the past.  
When your kitchen team has SpeeDelight, paninis, warm sandwiches, and other pub snacks (mozzarella sticks!) will be crisp and toasty on the outside and warm and soft on the inside. 
Consistent cooking results are a hallmark of this amazing high speed cooking solution, and that makes customers happy and coming back for more. Quick service keeps them coming too! You'll be thrilled with how easily you'll move through the lunch rush every day. No more bottlenecks.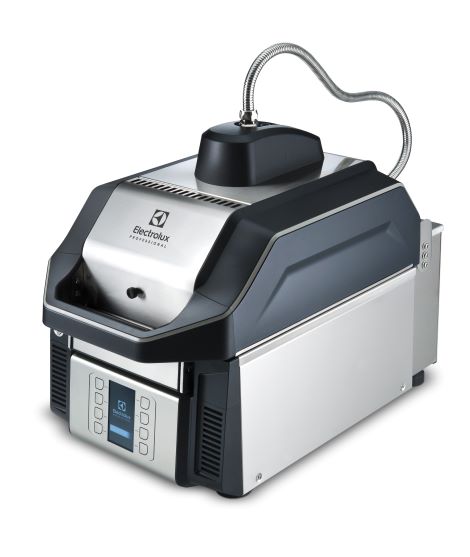 How does SpeeDelight high speed cooking work?
In less than one minute, you'll serve customers the small bites, sandwiches, and snacks they really want – without sacrificing exceptional quality. SpeeDelight's foolproof, high speed cooking technology means you can walk away knowing the item you're preparing won't burn or create a safety hazard. With Perfect Squeeze technology, the upper plate settles with just the right pressure and opens automatically when your snack is ready. All guesswork is gone! With the SpeeDelight high speed cooking solution, you'll create consistent menu results every time. 
What type of food can SpeeDelight prepare?
Not only does this high-speed cooking device produce consistent results every time, it won't restrict you. This piece of equipment is highly flexible – your kitchen staff can get as creative as they wish!  SpeeDelight's cooking programs are perfectly suited to many types of cuisine, including street food and bakery snacks. You'll feel free to create innovative new small bites to your heart's content.  
Additionally, the machine's Idea Matcher function provides your choice of up to four different programs or cooking cycles. That means you'll combine your favorite techniques to go beyond simple grilling and heating. Whether your culinary creation is sweet or savory, there's nothing this little machine can't do for your quick serve restaurant or coffee shop!  
Can't-Miss Practical Benefits of SpeeDelight by Electrolux Professional
SpeeDelight is a sleek machine with a small footprint – and you'll be proud to show off. The nonstick tray also is very easy to clean for even the busiest kitchens. This high-speed cooking device can reliably process up to 1,000 cooking cycles a day and cook menu items three times faster.     
This high-speed machine provides exceptional simplicity. No matter the experience level of a kitchen staffer, they can use SpeeDelight with great results. Its plug-and-play installation and user-friendly control panel let anyone become a master. Ventilation filters are included and do not require a ventilation hood! SpeeDelight's innovative Energy Saving Mode uses 60% less energy, which is good for your bottom-line and the environment.  
Electrolux Professional High Speed Cooking means a smoother, simpler workflow.
Workflow and food quality are in-sync, which means a happy kitchen and thrilled customers. When your fast casual kitchen is ready for an innovative way to combine exceptional food quality with quick turnover and consistent results every time, SpeeDelight by Electrolux Professional will change your game for good. 
Pronto! High Speed Cooking is at Your Fingertips with SpeeDelight
2022-05-02T17:55:00+00:00