To be prepared for all eventualities, the Austrian Samaritan Federation and the Johanniter have set up the large care facility Messe Wien for suspected COVID-19 cases on behalf of the City of Vienna. Within two weeks, the associations created a care center that can accommodate at least 2200 slightly ill patients or people under quarantine restrictions – including homeless or refugees. The wards, each with 110 beds, are equipped with sanitary facilities and washing machines for the patients' private clothing.
Electrolux Professional supports the preventive care program in Vienna with a range of washing machines and dryers from its smart-professional line myPRO. In addition, the care center has several full-commercial washing equipment available for the hygienic washing of workwear. To complete the service also for food supply, two Skyline combi steamers have been donated to the staff catering.
Günter Sekanina, Sales Manager of Electrolux Professional Austria explains: "We are very happy to support the Messe Wien care center with our highly professional equipment, which meets the requirements of a medical and care facility in every respect. The COVID 19 pandemic requires absolute hygiene. Our Line 6000 commercial washing machines and dryers and our combi-steam systems contribute to this. We are very pleased to be able to make a non-bureaucratic contribution in this way".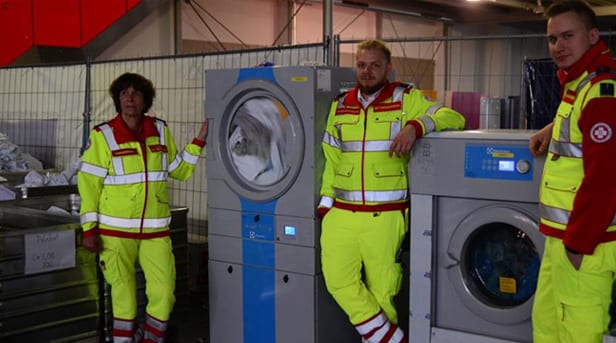 Photo: Care Center Vienn

a prepared for

 ultimate hygiene washing results
The OnE that counts and cares in Vienna
2020-07-03T19:43:20+02:00