Founded in 1949 by Max Herz, Tchibo has been synonymous with freshness and quality in the coffee market for over 71 years. Originally a coffee mail-order firm, it has evolved into an international company and operates in many more business sectors than the traditional selling of coffee. "Top quality at fair prices" has always been their striving, carefully selecting partners that meet their high demands and ensure reliable, replicable results across many outlets. What is closer than partnering with a global, trustable brand and team to ensure top quality service? 
Electrolux Professional Turkey is constantly expanding their offer towards all Tchibo branches in Turkey: from dishwashing, refrigeration/ice making to water filters.
Performing water tests at every maintenance and cartridge replacement to ensure that reliable water is used in all branches in accordance with Safety & Hygiene conditions.
With the Essentia Service Agreement performed by Electrolux Professional Authorized Service Partners, all products are reliably maintained and repaired before and during the pandemic. As a result of trust and satisfaction of the service quality, Tchibo Turkey has recently committed also to sourcing original Accessories & Consumables from Electrolux Professional. Just in time and on site for their outlets – making their experience complete for offering "honest products, best service everywhere, anytime".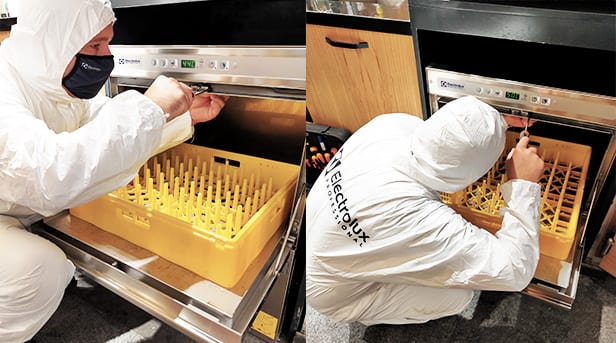 Keeping operations up and running
Behind the scenes: Tchibo Turkey
2020-08-28T14:00:10+02:00