Osteria Le Cementine surrounded by innovation and technology
Osteria Le Cementine is the first restaurant at H-Farm open to the public.
Founded in 2005 by Riccardo Donadon, H-Farm is similar to a miniature Silicon Valley located in the Veneto countryside in the province of Treviso.
Within this constantly evolving space, destined to reach an area of over 40 hectares, Le Cementine has recently opened: a state-of-the-art establishment overlooking the Sile river.
The Osteria Le Cementine takes its name from its flooring, made of original tiles from the late 800's in Italy, which today cover the entire restaurant environment, from the inside to the outside.
Entering the open space, surrounded by windows, your attention is immediately captured by the visible thermaline, chosen for its reliability and ergonomics.
Along with its design, perfect for the location, thermaline is highly appreciated by the chef for its unique features that make it an excellent ally for successful performance.
Sous-vide cooking in the air-o-steam Touchline oven minimizes waste while enhancing the quality of the dishes served. The temperature controlled drawers inserted in the thermaline block where meat can be placed to rest, recovering its juices and thus maintaining a perfect texture. The unique swissfinish seamless work top facilitates cleaning operations, allowing order and hygiene even during maximum operating times.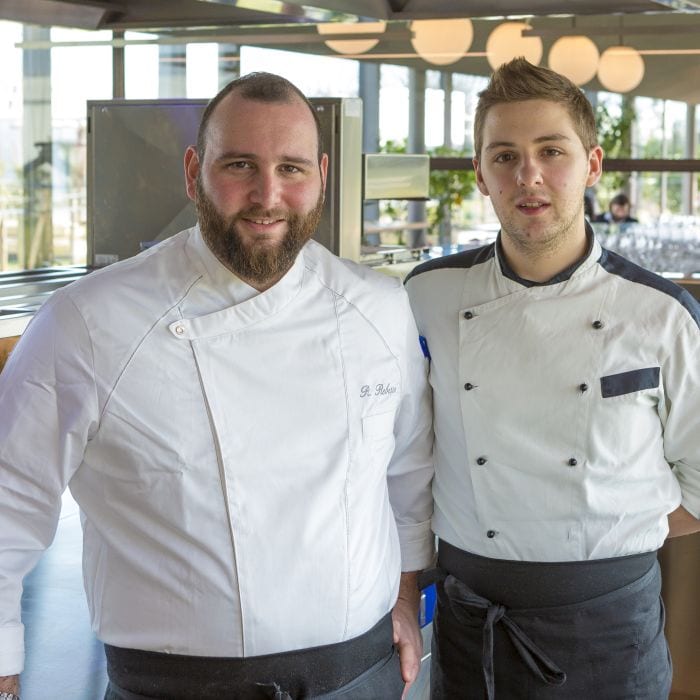 "Why Electrolux Professional?"
Riccardo Rebesco – Executive Chef Le Cementine commented:
"In my opinion technology in kitchen means semplification. Electrolux has helped us greatly with this unique one-piece top, designed to reach a high level of cleaning and hygiene. "
List of installed equipment:
Give a look at our solutions, you may like them!
Le Cementine
2018-10-03T11:39:12+02:00