Electrolux brings life to the "home life" of Faugeras
Christophe Leymarie, executive assistant at the elderly home of Faugeras, and Nathalie Segurel, laundry manager, were in charge of the reorganization and modernization of the in-house laundry in January 2016, in partnership with Electrolux Professional.
The history of the home began in the 1950s in Switzerland when some parents of handicapped children met together and decided to create an association.
In 1959, they purchase a detached house in Rope in the suburb of Belfort. Ten years later, the teenagers became adults: the association then had to change status and find a space more suitable for its residents. A wonderful opportunity presented itself: the castle of Faugeras. The magnificent domain was transformed into the elderly home and roughly 50 years later it welcomes 56 residents.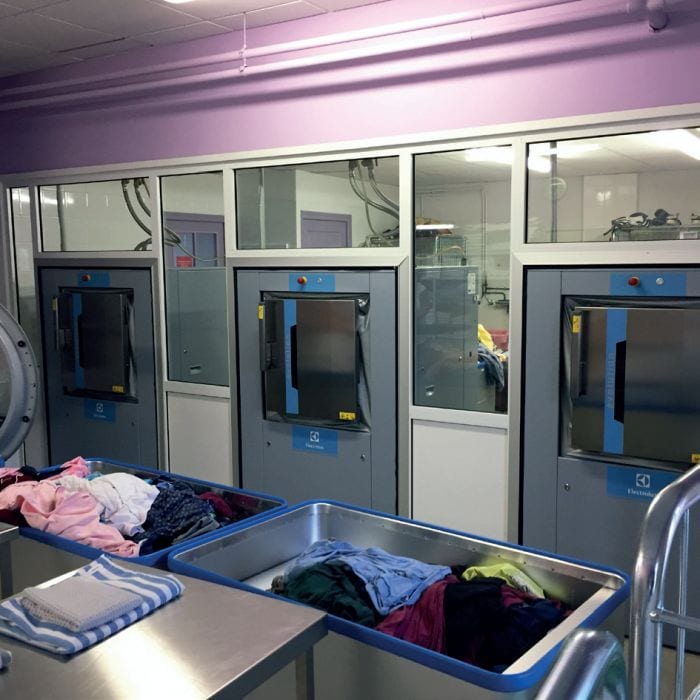 From the beginning, the association possessed its own laundry: no linen is handled outside the establishment, neither for the residents nor for the staff. In 2008, it was totally refurbished to better meet the needs of the home and now it is designed with two different zones to separate the dirty linen from the clean linen.
In order to finalize their laundry, Christophe and Nathalie were accompanied by the company Auditextyl, to visit ESATs and retirement homes. "What we noticed was the undisputed reliability of the brand Electrolux and the satisfaction of establishments", notes the deputy general manager. "We handle on average 250 kg of linen every day, that of 56 residents and 70 employees full-time, it is almost 5 tons a month", specifies Nathalie Segurel. "There are different types of linen, from the bedding and bathroom linen to the residents' linen, the workwear and shoes. We needed durable equipment."
The deadlines were respected, the installation was done in 21 days by the Sodibel company. The Auditextyl company performed a 3-day on-site training.
The barrier laundry system is organized in three parts: a room for the dirty linen, one for the clean linen and a last one reserved for storage and sewing.
"To the pleasure of working with state-of-the-art machines, a real working comfort was added. We gained time both in washing and drying, which is not to be underestimated", concludes Nathalie Segurel. The management also underlines the great implication of the whole laundry team, without whom nothing would have been possible.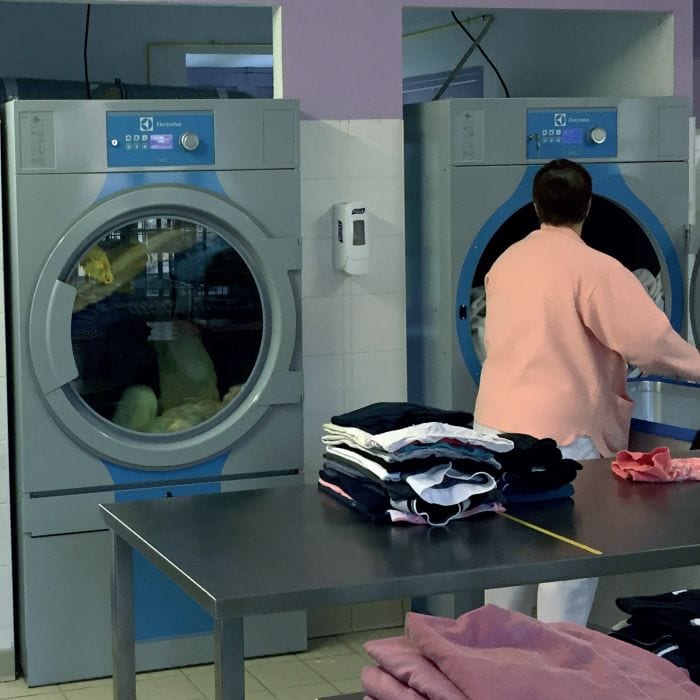 "Why Electrolux Professional?"
Christophe Leymarie – deputy director of Foyer de Vie Faugeras commented:
"We were convinced by the performance and the reliability of the Electrolux machines. The very professional advice and the support of our partners were also a decisive factor in our choice and contributed to the success of our new organization."
List of installed equipment:
Have a look at our solutions, you may like them!
ESAT – Foyer de Vie Faugeras
2018-12-18T09:25:52+02:00