Product Features
Electronic overheating protection.

CB and CE certifed by a third party notified body.

Designed to be positioned in flush installation providing improved cleanability and suitable for modern design installations.

Precise temperature control and setting at 0,1°C .
As standard the product comes with digitally controlled thermostat which is in line of HACCP norms and provides visual alarm as a warning of the increasing or decreasing temperatures.

Available drop-in dimensions: 1, 2, 3, 4, 5, 6 GN.

Designed to serve the food in plates, casseroles, pans

It comes with stylish black coloured tempered heated glass with integrated etched foil elements and stainless steel framed.
Special design etched foil heating elements to maximize heat transmission on the surface for having the same temperature on the whole surface.

Ideal for elegant buffet to display warm food, such as pizza, bun, etc. thanks to the extended surface top.

Food introduced at the correct temperature maintains its core temperature according to Afnor Standards.

IPx4 water protection.
Electronic control with temperature display.

AISI 304 Stainless steel frame with rounded corners to facilitate cleaning operations

Heating elements connected to the bottom include safety thermostat.
Specifications
Electric
Supply voltage: 220-240 V/1N ph/50/60 Hz
Electrical power max.: 0.31 kW
Key Information:
External dimensions, Width: 450 mm
External dimensions, Height: 80 mm
External dimensions, Depth: 620 mm
Net weight: 8.3 kg
Shipping weight: 16.3 kg
Shipping height: 200 mm
Shipping width: 660 mm
Shipping depth: 490 mm
Shipping volume: 0.06 m³
Set temperature: +115 / +125 °C
Noise level: 0 dBA
Documents
CAD Drawings
Data Sheet
Leaflets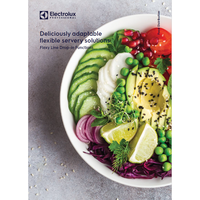 EPR Flexy Drop-in leaflet (servery)
(477,83 KB)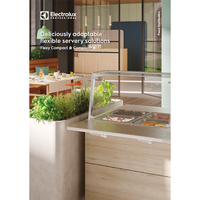 EPR Flexy Compact & Compact JR (servery)
(2,02 MB)
Product Support
Do you need support
for this product?
Get in touch with one of our Service Partners.
Interested in
this product?
Select on the map your area and get in touch with one of our Sales Partners
Do you own
this product?
You may be interested in user manuals. Please login and then click here to find out manuals.
Let us provide more for
your business!
Register your product and let us provide you with our best contents and customer care.