Launched in May 2018, "The Future of the Laundry" aims to identify how our laundry behaviours can affect the environment. The project is run by The Research Hub by Electrolux Professional and Chalmers University of Technology in the laundry studio of HSB Living Lab.
"Laundry behaviour is a topic that affects many, and a growing number of people are beginning to question their laundry habits," says Erik Svedberg, doctoral student at Chalmers.
Do we really need to wash our clothes as often as we do today? This was the question that doctoral student Erik Svedberg posed when he began his doctoral studies at the Division of Environmental Systems Analysis of the Department of Technology Management and Economics. Beginning May 2018, Erik will spend five years mapping out human laundry behaviours, exploring different aspects of laundry and their significance to the environment. A big aid in his work is the HSB Living Lab, a modular apartment building on the Chalmers campus in Gothenburg where researchers and students live.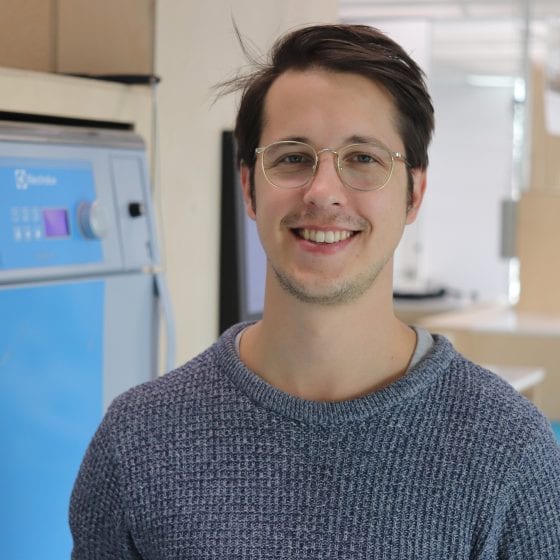 Erik Svedberg, doctoral student at Chalmers
The building is designed to enable researchers to conduct their research studies and experiments in a home environment. It has, for example, 2,000 connected sensors that gather and analyse data. Electrolux Professional has built a modern and unique laundry room, which has been lifted from the basement to the entrance floor and is intended to serve as a social gathering point for the residents. Individuals participating in the project have tagged their clothes with an RFID chip, making it possible to measure how often a specific garment is washed.
The project is still in its infancy, but the goal is to be able to answer questions such as whether the environmental impact differs depending on whether you use a household washing machine or a professional one (like in a laundromat), why people feel a strong need to wash, and what opportunities exist to change behaviours and make them more sustainable.
"We are currently collecting basic data and aim to publish at the beginning of next year. However, we have already seen that the research questions about laundry behaviours engage many people, which is really great. Most of us have learned specific laundry habits, where we feel a need to wash clothes even if we have only worn them once. With this project, I hope that we can get people to more actively reflect on their laundry habits and ultimately actually change people's behaviour, for example by getting more people to wash smarter or by reducing the stress that many experience in relation to laundry and cleanliness standards," says Erik Svedberg.
Electrolux Professional plays a key role
The Future of the Laundry project is backed by Electrolux Professional in partnership with the Division of Environmental Systems Analysis at Chalmers and HSB Living Lab. Via The Research Hub initiative, Electrolux Professional helps doctoral students conduct research studies in a larger context. Through initiatives such as scholarships, prospective doctoral students can delve deeper into a number of areas, like behavioural science and environmental technology, which are Erik Svedberg's focus areas. Electrolux Professional is at the forefront in relation to sustainability issues. They invest heavily in research into laundry and the environment, and continuously develop their products to minimise their environmental impact. Viktoria Roos is the coordinator of The Research Hub by Electrolux Professional, and eagerly anticipates what The Future of the Laundry will show.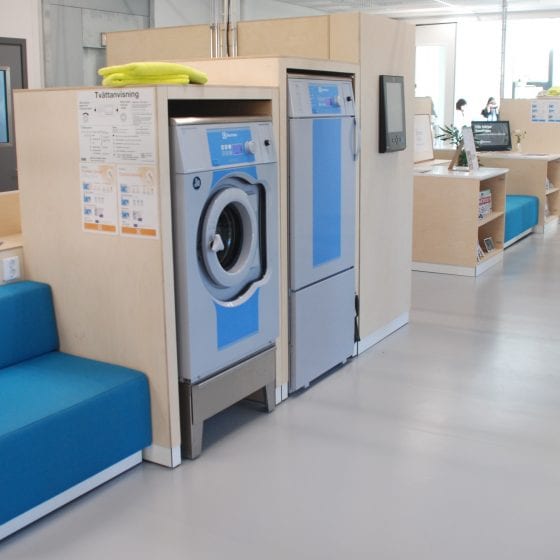 Laundry studio in HSB Living Lab
"We consider the project very important. Having the research conducted in a real house with real people is unique, and gives up a picture of how things could be in real life. For us, collaboration with the university and other companies is fundamental to finding new innovative solutions for a more sustainable way of life," concludes Viktoria Roos
Read more about The Research Hub here.
About HSB Living LabAbout HSB Living Lab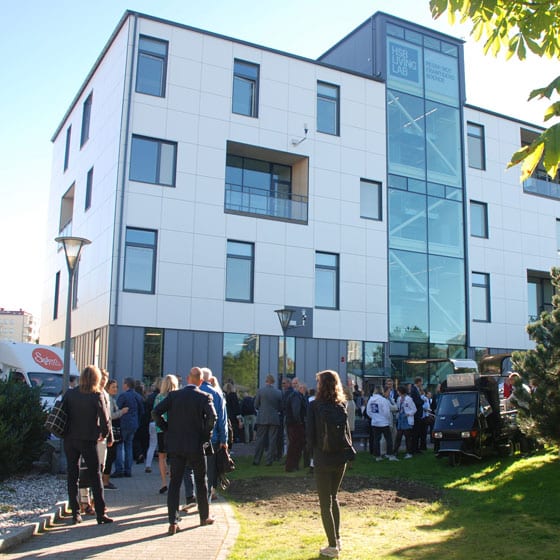 HSB Living Lab (HSB LL) in Gothenburg is a living research lab and apartment building, where the municipality, business community and research community all work together to find sustainable solutions for the homes of the future. The project participants are Gothenburg Municipality, Electrolux Professional, together with a number of other companies from the business community, as well as Chalmers University of Technology. HSB LL currently has 29 apartments, and its residents are students, HSB members and researchers. The living lab is a four-storey building that can be dismantled, and the project is the only one of its kind in the world. Over a span of 10 years, new technological and architectonic innovations will be tested, with a focus on social, economic and ecological sustainability.
Read more about HSB Living Lab here.
Your laundry behaviour can affect the environment – new research project will show how
2019-11-30T15:44:51+02:00