Sheraton Birmingham Reaps Benefits with Cook & Chill Banqueting System
The Sheraton Birmingham Convention Center, a contemporary hotel 5-minutes from the Birmingham Museum of Art, installed the Electrolux cook & chill system in 2015. This property was using all convection ovens and walk-in refrigeration with kettles and deep fryers before the installation. It only took a few training sessions to get them comfortable with the Electrolux cooking process.
Along with the combi ovens and blast chillers, the property also purchased plate trolleys, tray trolleys, thermal blankets, searing grill plate oven accessories, a Thermaline pressurized braising pan, EMPower Restaurant Series French top, charbroiler and smooth top griddle.
Seamless Service
The last weekend of February 2016, the Sheraton Birmingham served 7,000 meals Friday and Saturday doing breakfast, lunch, and dinner. They were able to eliminate more than 500 labor hours off of the bottom line by using the Electrolux cook & chill process compared to past labor costs for the same convention group and other groups of similar size.
They were also able to stay a full-plated meal ahead all weekend by using the plate trolleys. On Tuesday, Wednesday, and Thursday, they prepared, cooked and blast chilled all of the meals. Thursday evening, they began plating the meals. They purchased another 10 plate trolleys two weeks before, so this gave them enough staging room to stay ahead the entire weekend. They were able to have 900 plates ready on the plate trolleys all weekend.
Mark Rudd with Pro Rep Marketing and Corporate Chef Chuck Hoover with Electrolux Professional went over to the property for this large event to watch the kitchen staff put out 742 plated meals at 11 a.m.
Starting the Day
The kitchen staff started re-thermalizing the carts at 10:15 a.m. and all 742 plates were completed by 11 a.m. and ready to serve. That is 742 plates ready within 45 minutes. The meals were plated and loaded on trolleys the day before and re-thermalized the next day.
"It was amazing to watch this meal go out!" Rudd commented.
The chef, armed with one trolley handle, loaded all 18 trolleys by himself with a re-thermalizing time of 9 minutes per trolley. He had a team of 5 stewards saucing the plates and loading the trays for service. He occasionally checked on the saucing while breezing between the ovens pulling a cart, covering it with a thermal blanket to finish heating and loading a new cart.
The entire time he did this, his kitchen staff worked on prep for a dinner for the following night. In less than an hour, he single-handedly re-thermalized 742 plates. At 11 a.m., 742 plates were out of the kitchen.
"The Cook & Chill system made one of our busiest weekends of the whole year go off without a hitch," said Sheraton Birmingham Executive Chef John Melton. "We were ahead of the guests and service staff all weekend and we accomplished it with the smallest staff we have ever used on an event of this size. In the 5 days of prep and service for this event we used 100 less labor hours per day. It subtracted $6,000 from our bottom line cost compared to the same event one year ago.
"Instead of bringing staff in at 2 a.m. each day, we were able to start our day at 6 a.m. The staff attitude was much better. Nobody was stressed out and exhausted. On a great day under, our old system, we had 'controlled chaos.' On a bad day, it was just chaos. This past weekend was a lot of work, but everything about it was controlled. We controlled the timing instead of the prep and plating controlling us. It allowed us to serve a product we were proud to serve."
"The cook & chill system made one of our busiest weekends of the whole year go off without a hitch. We were ahead of the guests and service staff all weekend and we accomplished it with the smallest staff we have ever used on an event of this size."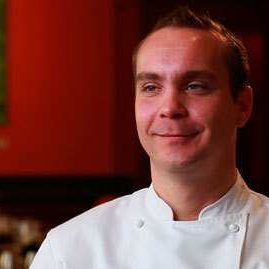 Sheraton Birmingham
Executive Chef John Melton
"The system was put to the test this last week. I could not be more proud of the way our culinary team executed the event." F&B Director at the Sheraton Birmingham, Mark Burkhalter, commented. "They controlled the event rather than having the event control them. We were pushed to our limit as far as the capacity of our facility, but we were able to feed them using less labor than we would have a year ago on an event half this size. Our whole culinary team has now bought into the system and understand that to be successful you make the system work for you, not the other way around. It has taken us some time to get accustomed to cooking this way, but the end results speak for themselves. This has changed our system in ways we weren't sure were possible. We love the results we are now able to achieve."
Executive Chef John Melton stated that he has really encouraged the staff to "create" their own recipes to store in the ovens. He has guided them using Chef Chuck Hoover's combi guidelines for moisture and heat settings and allows them to create their own cooking techniques within these guidelines.
He believes this has really helped them buy into the process because they are very involved and get to make it their own. He will occasionally tweak their cooking times or moisture levels, but said they are really grasping and understanding why and what the equipment is there to do.
Sheraton Birmingham Convention Center
2017-10-13T18:09:31+00:00