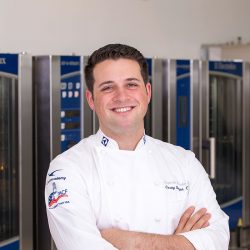 Ingredients
60 Grams
Egg Yolks 75 Grams
Sugar, divided 40 Grams
All Purpose Flour 230 Grams
Whole Milk 60 Grams
Butter 1 Each
Vanilla Bean 60 Grams
Semi-Sweet Chocolate 110 Grams
Egg Whites
Preheat oven to 350° F.
Butter the sides of 6 four-ounce ramekins and sprinkle with sugar, shaking off any excess sugar.
In a small bowl, whisk yolks and about half the sugar until pale and smooth.
Add flour to yolk and sugar mixture to make a thick paste.
Put milk, butter, vanilla, and chocolate into a medium sauce pot, bring just to a boil. Temper a small amount of the hot liquid to the yolk mixture, whisk smooth. Add the rest of the hot liquid and stir to incorporate.
Put this mixture back into the pot and return to the heat, cook, whisking constantly, until thick. Consistency should be similar to cake batter. Remove from heat and set aside.
Place the egg whites into the bowl of electric mixer fitted with a whisk. Begin whisking at slow speed until whites are broken up and there is a layer of small bubbles. Increase speed and whip whites until very foamy. With mixer running, add the remaining sugar and whisk until whites are shiny and will hold a long soft peak.
Stir 1/4 of the meringue mixture into the warm chocolate mixture to lighten it, then carefully fold the chocolate mixture into the remaining meringue.
Spoon the soufflé mixture into the prepared ramekins. Bake in the air-o-convect or air-o-steam Touchline combi oven until risen and just barely firm in the center, about 15 minutes. Serve immediately with Crème anglaise or whipped cream.
Chocolate Soufflé
2016-11-10T07:10:17+02:00