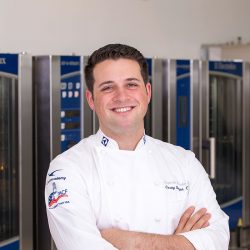 Chefs are constantly trying to create an environment where more can be accomplished in a shorter period of time. This recipe is a great example of pairing items that use similar cooking methods and techniques to achieve those results. Cooking the cheesecake in the lidded jar will help to maintain freshness and eliminate the need to produce every day.
Ingredients
225 grams
Cream Cheese, 104 grams
Whole Eggs, 100 grams
Egg Yolks, 73 grams
Sugar, 40 grams
Good Honey, .5 each
Vanilla Bean, 2 each
Key Limes (Zested), 2 grams
Fine Sea Salt, 281 grams
Sour Cream
Preparation
1. Mix all ingredients in a container using the Bermixer immersion blender,
2. Pour into 4 oz jars and allow them to sit overnight or gently torch to remove any bubbles,
3. Tighten the lid until "fingertip tight",
4. Steam at 185F for 30 minutes,
5. Transfer to the air-o-chill blast chiller/shock freezer and chill for 1 hour.
Ingredients
600 grams
Raspberries, 60 grams
Sugar
Preparation
1. Combine the raspberries and sugar in a bag and vacuum seal
2. Steam at 185F for 30 minutes
3. While the mixture is still hot, puree in a bain marie using the Bermixer immersion blender
4. Strain the coulis through a chinois and chill in the air-o-chill blast chiller/shock freezer
5. Place the coulis into a squeeze bottle for easier handling
Finishing
Remove the lids from the jars and add a layer of raspberry coulis
Add a spoonful of graham cracker, pulsed in the TRK food processor
Garnish with a raspberry and fresh mint
Solutions used
air-o-chill blast chiller
Bermixer immersion blender
TRK food processor
Give a look at these ideas, you may like them:
Key lime cheesecake with raspberry coulis
2016-11-10T07:14:19+02:00