Located in the heart of Arnavutköy and Moda, which are one of Istanbul's most popular neighborhoods, Coni&Co, is the city's best fried chicken restaurant, has begun its operations in 2019 and has become an irreplaceable place for crispy chicken enthusiasts.
Jordan Dupont, who is the creator of the brand, lived in Vietnam from 2010 to 2015, and says that one of his favorite meals during his stay in Vietnam was chicken wings. However, the wings he ate there weren't exactly as crunchy as he wanted, and Koreans were doing it much better. Due to his fondness for palate and his passion for crispy chicken, Mr. Jordan desired to open a restaurant to serve a more crunchy version of the flavor he experienced in Korea when he returned to Turkey. Keeping its focus on the wings, he created the Coni&Co brand by adding crispy fillets and burgers to the recipes. Thus, the first chicken gourmet restaurant was born in Turkey.
"Crispy chicken is an 'extremely chic' meal all around the world. However, in order to consume this in the most accurate way, it must be consumed as soon as possible after taking it out of the fryer. Preparations must be "made-to-order", that is, they must be made on order, because after the product is cooked, the rate of crispiness and juiciness decreases every second. In fact, when done using the right equipment with the right operations; product almost acquires a Michelin Star balance with the rate of its crispiness, juiciness and softness."
The preparation process of the crispy chicken is very important. At first, they marinate the chicken, then perform the coating process consisting of flouring and spices. They cook the wing twice and chill in the Electrolux Professional Blast Chiller. And they make the coating sauce, the bread, everything themselves, they only buy the chicken from the outside.
"When opening the second branch, we decided to work with Electrolux Professional brand, which is a OnE solution partner which offers complete solutions to perform all the kitchen and service with a single brand. It was very important for us that the heat recovery feature of the Fryers were high as a Kitchen equipment. That's why it was our primary preference to choose Electrolux Professional brand."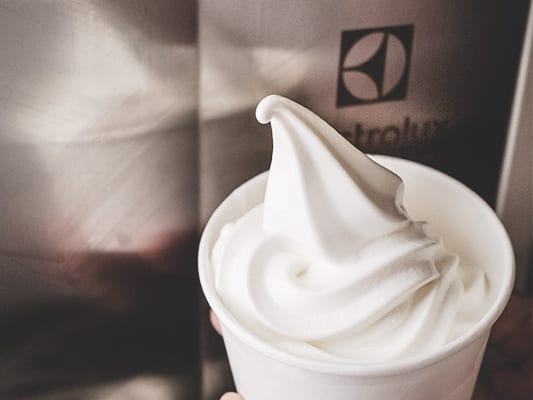 "In terms of Beverage equipment, we decided to work with the Electrolux Professional brand which has bought Unic brand, the world's best Espresso Machine brand, because of the 'unique' artisanal spirit of its coffee – which we believe will provide us the best results; and so, we bought an espresso machine, an espresso grinder, and in addition, a soft ice cream dispenser. Electrolux Professional Fryers, Blast Chiller, Espresso Machine and Soft Ice Cream Dispenser make our lives more easier during our busiest days and get the fastest and highest quality results in the products. When our customers come to our place to relax and sip their coffee for treating themselves after eating their meals, it is important that espresso machines perform with high performance and the same consistent results in the process of coffee preparation. On-demand coffee grinder is easy to use and provides uniform grinding each time. The soft ice cream dispenser, which we use to make soft ice cream, also brings a variety to our menu options."

Coni&Co is a hobby of the brand creator, which has been driven by pleasure and nurtured with confident steps. At Coni&Co, all products are prepared by their own hands every day for the purpose of bringing happiness to guests who come to the place and request takeaways by offering the service in the fastest and in a quality way.
Electrolux Professional is a prospective investment for us!

"Why Electrolux Professional?"
Devrim Uyguner – Coni&Co Restaurant Manager
"Electrolux Professional is the world's largest brand for us, offering complete solutions for those who want to do their job much more professionally. With the planned conveniences in the production of devices, we accelerate the work we do in a unit of time. With the support of the Authorized Service Partner, our infrastructure becomes even stronger. Electrolux Professional is a prospective investment for us."
Coni&Co the best fried chicken restaurant in Istanbul
2020-11-30T07:59:50+00:00