A lemon-fresh take on the laundry business
Any other first-time laundry owner might be uneasy about opening a store surrounded by its rivals, including one located directly across the street. But instead of focusing on the competition, Lemon Laundry owners, Mandy and Don Situ, focused on the opportunity – to create a store that would make people think differently about laundromats and doing their laundry.
"We wanted Lemon Laundry to transform the very character of the laundry business," enthused Don. "When you think of a 'typical' laundromat you probably envision an unenthusiastic environment with a shoddy paint job and tired old machines. Lemon Laundry isn't typical. It's more like a favorite neighborhood hangout outfitted with top-of-the-line Electrolux Professional washers and dryers."
"I've been designing and constructing laundromats for others for many years," said Don, "so I'm no stranger to the business. I actually met my laundry distributor, Bob Jung, 10 years ago when I first began doing Laundromat design. Bob was the one who finally talked me into opening my own laundromat."
Bob Jung was also the one who introduced Don to the Electrolux Professional brand. Don recalled the first time he went to the Electrolux warehouse, "I felt like a kid in a chocolate factory. Seeing and learning about Electrolux's washers and dryers left me with a very strong, very positive long-lasting impression of the brand." That's why Electrolux was Don's first and only equipment choice for Lemon Laundry.
The Electrolux brand – the first and only choice
The store has 26 beautifully appointed Electrolux Professional 200 G-force washers and 24 Electrolux Professional dryers. The combination of having Electrolux washers and dryers gives customers excellent laundry results, all while saving time and money – for both the customer and store owner.
"A load of laundry comes out of the washing machine noticeably drier, thanks to the high-speed water extraction of the Electrolux washer," said Don. "Then it goes into the Electrolux Professional dryer and our customers are done with their laundry in no time. I like that they are happy with the results and I like the savings I see on my water and utility bills."
Don also likes that Electrolux has his back. "The equipment training as well as the responsiveness of their customer service team is incredibly important me," shared Don. "If something comes up, I know I can rely on them. I highly recommend Electrolux Professional."
Being different is paying off
On opening day, Lemon Laundry made $52. Yet by the month's end, it made well over $10,000 and has been enjoying steady growth ever since. The store averages three new customers every day and the owners recently invested in a van to handle the growing demand of laundry pick-up. "There lots of young families in the neighborhood without in-home washers and dryers," observed Don. "There are also a lot of Laundromat choices; within a 10-block radius, you'll find 10 Laundromats. But they can't compare to Lemon Laundry."
In addition to the glowing reviews by word of mouth, flyers have been making a vital impact in the densely populated community, bringing in continuous customer acquisition to Lemon Laundry.
"There is simply no comparison between our store and the others – even if you're looking solely at equipment performance," explained Don. "Our customers love that the Electrolux dryers dry very fast, and clothes come out drier from the washers to begin with. They value being able to get in and out fast."
"My advice to others getting into the business is to focus on building your brand and respecting what the customer has to say," concludes Don.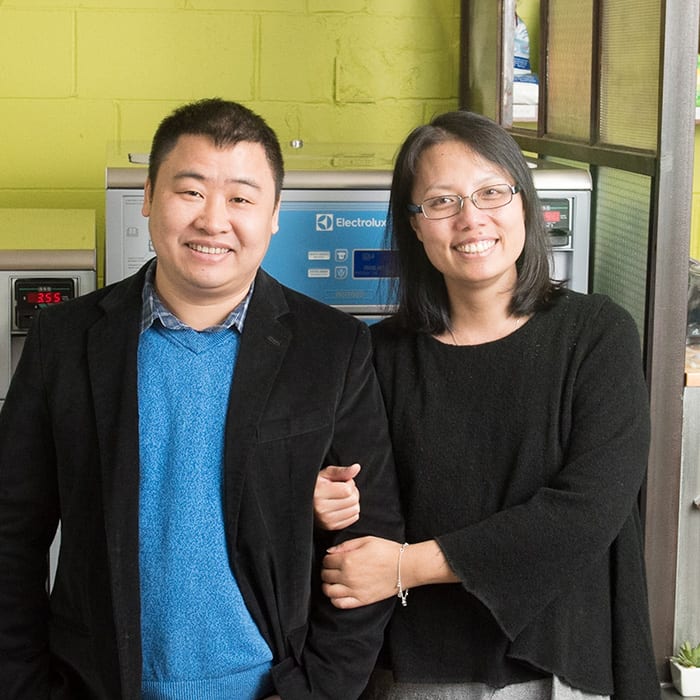 "Why Electrolux Professional?"
Don Situ – Owner
"A load of laundry comes out of the washing machine noticeably drier, thanks to the high-speed water extraction of the Electrolux washer […]  Then it goes into the Electrolux Professional dryer and our customers are done with their laundry in no time. I like that they are happy with the results and I like the savings I see on my water and utility bills."
"The equipment training as well as the responsiveness of their customer service team is incredibly important me. […] If something comes up, I know I can rely on them. I highly recommend Electrolux Professional."
Lemon Laundry
2019-07-09T09:16:27+02:00