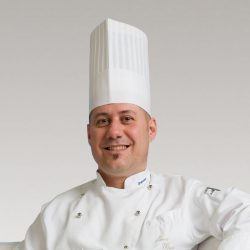 Ingredients for 4 people
1 kg of semolina
10 yellow paste eggs
250 g fresh goat ricotta
70-80 g grated Parmigiano cheese
Freshly ground black pepper
1 kg peas
50 g extra virgin olive oil
200 g of S. Daniele prosciutto
Preparation
For the dough: use the planetary mixer with the hook and mix 1 kg of semolina with 10 yellow paste eggs.
For the stuffing: use the planetary mixer with the whisk and mix 250 g fresh goat ricotta with 70-80 g grated Parmigiano cheese and some freshly ground black pepper.
For the sauce: 1 kg peas with a pinch of salt and pepper, as well as 50 g extra virgin olive oil and 100 g water. Place everything in a vacuum cooking bag and steam in the oven at 95° for 25 minutes.
Let the sauce cool and purée it with the help of an immersion blender, add mint leaves and season with salt, if necessary. 200 g. of S. Daniele prosciutto, 1 mm thick, julienne it and place it in the microwave to make it crispy.
For the preparation: Roll out the dough with a rolling pin or a pasta roller until you obtain a very thin layer, cut some circles out with a pastry cutter of your preferred diameter, then place the ricotta on top with the help of a pastry bag.
After brushing the sides and closing the ravioli so as to shape them like a half moon, ensure that the edges are well sealed, place them in salted boiling water and cook for a few minutes.
For the presentation: use a plate with a diameter of about 28/30, place the pea purée at the bottom, lay the cooked ravioli and the S.Daniele on top, drizzle with a few drops of extra virgin olive oil and add freshly ground pepper, 1 fresh mint leave and serve hot.
Give a look at these ideas, you may like them:
Goat ricotta ravioli with crispy S.Daniele prosciutto
2016-10-22T08:30:38+02:00