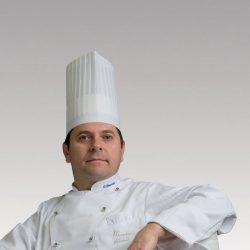 Ingredients
1kg gluten free flour
870gr hot water (35°C)
40gr fresh yeast
20gr salt
30gr extra virgin olive oil
Preparation
Put all the ingredients in the kneader: 4 minutes at speed I
and 3 minutes at speed II, using the leaf mixer.
The dough will be very sticky, so pour rice flour and Maizena cornstarch on the worktable, and let it rest for 10 minutes. This step is crucial to give it the best consistency.
Make the sizes and the shapes, handling the dough carefully.
Put the baguettes in a teflon pan and use the releasing agent for baking pans.
Let the dough rise for 40 minutes (max 70), the bread will swell and change consistency.
Cut the baguettes and bake at 220°C for 8 minutes, then reduce the temperature to 190°C for 15 minutes. Put the steam only during the first few minutes of cooking.
Gluten Free French Baguette
2017-07-04T15:18:53+02:00