In the year of its launch, SpeeDelight has become a multi award-winning product. The latest prize is the Janus de l'Industrie 2017, one of the most recognized design awards in the world.
Assigned since 1953 by the French Institute of Design, the Janus de l'Industrie is a mark of recognition that awards products with fundamental design excellence, environmental impact and economic values to users.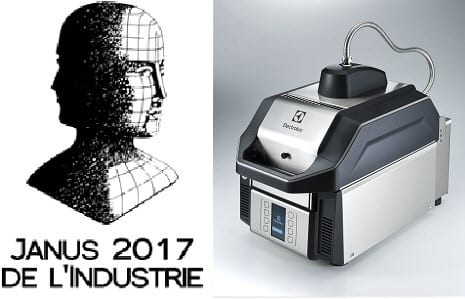 SpeeDelight was presented to the Paris jury on October 2 by Alberto Pezzutto, Head of Category Cook&Chill & High Speed Cooking, Davide Benvenuti, Senior Industrial Designer and Claire Troton, Product and Marketing Communication, France.
"The jury was impressed by the design story of SpeeDelight from customer understanding to final production and had the opportunity to taste the quality and variety of food cooked with the product," Pezzutto says. "They were unanimous in awarding SpeeDelight with the Janus 2017."
Earlier this year, SpeeDelight also picked up two prestigious Plus X awards, including being named the year's best product, and recently took home the Good Design Award 2017 in Japan.
SpeeDelight does it again: Janus de l'Industrie winner
2017-10-13T13:56:54+00:00