By putting simple strategies in place, you can do your part for the planet, reducing usage and protecting valuable water reserves.
Every year on March 22, individuals and organizations across the globe mark World Water Day, highlighting the importance of this valuable resource and advocating for the two billion people living on the planet who lack clean and safe access to water.
As businesses, it gives us a moment to assess how to reduce water usage, and ensure we are doing all we can to work towards a more sustainable future. According to Unicef, half of the world's population could be living in areas facing water scarcity by as early as 2025 – it is one of those World Water Day facts that drives home the need to play our part.
The provision of safe drinking water is a key part of the United Nations Sustainable Development Goals (SDGs) – the 17 objectives proposed by the UN and signed by all member states, intended to provide a blueprint for action by individuals and businesses on the urgent issues facing the world.
SDG 6 calls for universal access to safe drinking water and sanitation by the year 2030. Sadly, we are far off track from attaining that goal, which has inspired the central theme of World Water Day 2023, "Accelerating Change".
It is estimated that achieving SDG 6 would save the lives of over 825,000 people globally each year. This is the change that we have the power to make.
How to reduce water usage as a business
By lowering water consumption and reducing waste, businesses have the chance to do play their part in working towards increased water security while also reducing costs.
You can begin with small actions which, when taken as a whole, can add up to a huge positive impact. And larger-scale decisions can be taken as the need arises to continue a longer-term strategy towards better water efficiency.
At Electrolux Professional Group, we are committed to upholding SDG 6 and have made it a core part of our business. We invest heavily in the development of water-efficient and low-consumption products year after year, so that when businesses are ready to replace appliances, they can choose effective, efficient products that benefit their business and the planet.
There are multiple ways you can make a difference in preserving water reserves and reducing consumption in your business. Here are five actions that you can take right away.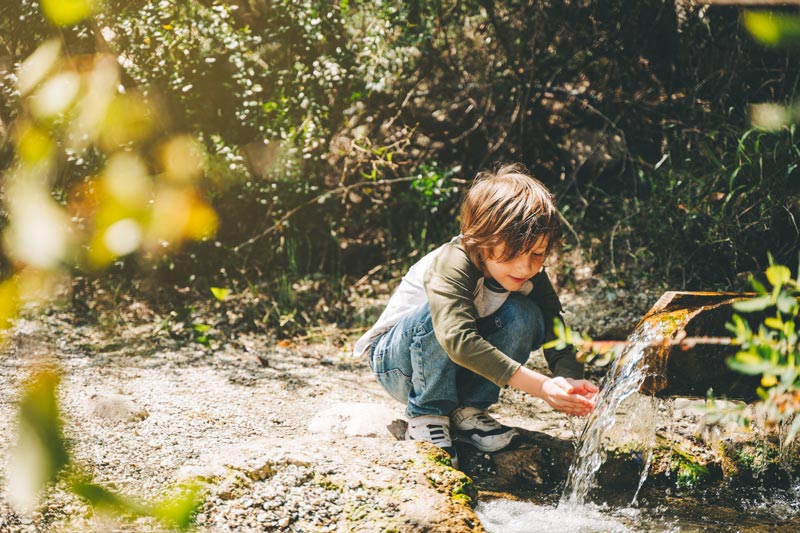 1. Introduce water measurement and reporting
Start your journey to better efficiency by carrying out a water audit. It will help you know where your business is in terms of consumption and the extent of the actions you need to take. Once you know how much water you use as a business, you have a baseline and can look at how to reduce water usage.
We recommend reviewing your water bills on a monthly basis for indications of leaks and monitoring your water use on fixtures like faucets, installing a meter to check usage over time. These changes are easy to make in-house, but if you prefer to consult with a professional, it could be a worthwhile investment to help find ways to optimize water conservation.
2. Conduct maintenance checks
Water usage can spiral when using equipment that is old or requires maintenance. Make sure you have a Planned Preventive Maintenance check list (known as PPM) to check over your appliances and, if they are reaching the end of their life, consider an upgrade sooner rather than later – the outlay pays for itself over time if you opt for efficient appliances and equipment.
You should also regularly check for leaks and other issues that can unintentionally increase your water usage. This is a more common issue than you might expect. In the UK for instance, it is estimated that between April 2019 and March 2020, England and Wales lost 660 million gallons of water to leaks every day. Regular maintenance checks can solve this problem at the root.
3. Implement simple water-saving measures

You don't need an annual World Water Day to empower your workforce of sustainability allies. By involving staff in your efforts and making little changes, you can make a real difference. Posting simple reminders by sinks and other fixtures can help make those small water savings that add up in the long run. Moreover, you can put in place an internal training path so to educate your staff on a more sustainable use of the equipment in order, for instance, to avoid half-loads and waste of water when using washers and dishwashers.
As well as actively involving staff, look to invest in simple technology to reduce water consumption. Aerated faucets reduce flow without reducing the strength and effectiveness of the water and many bathrooms can now come fitted with waterless urinals and high-efficiency toilets to lower utility bills.
4. Recycle and reuse
Alongside these investments, there are plenty of green solutions that utilize rainwater and recycle wastewater. These solutions can be simple or sophisticated.
You can start today with efforts to reuse water, for example, irrigating indoor plants using leftover drinking water. Inspired by World Water Day and want to make a bigger change? Developing modern graywater systems that recycle wastewater for use in boilers and cooling units takes waste water and applies it for industrial use – saving a great deal of money.
5. Upgrade your equipment
The equipment you choose has a great influence on your water usage. Washers and dishwashers can be the most water-intensive appliances in a business, which is why it's so important to select the right equipment for yours.
At Electrolux Professional Group, we are always looking at how to reduce water usage for businesses and aim to improve the efficiency of our water consumption in dishwashing and laundry appliances by 8% by the year 2025. The steps that we've already taken saw an improvement in efficiency by 2.3% in 2021 alone.
Green dishwashing solutions
Our green&clean dishwasher line includes the Multi Rinse Rack Type dishwasher, capable of cleaning a full rack with just one glass of water. The Dual Rinse Rack Type model also offers water consumption savings of more than 50% compared to previous models of the same line, tanks to improved water filtration, a recirculation system, and the automatic switch off when the appliance is not loaded.
By using Electrolux Professional green&clean dishwashers with lower water consumption, your business can reduce its overall consumption of resources such as energy, detergent, and rinse aid. On top of that, versions with Energy Saving Device or Heat Pump provide better working conditions, assuring also lower ventilation needed, thus helping you to reduce the running costs of your installation.
Efficient Laundry solutions
Your business can also benefit from more efficient laundry solutions, particularly by implementing modern washers designed with environmental needs as a key priority.
Our Line 6000 washers and dryers have sophisticated water management systems to consume the minimal amount of water possible based on load size while maintaining exceptional hygiene and cleanliness.
Since the first washer of this type was introduced in the year 2000, Electrolux Professional has worked to increase efficiency with every new line. The latest washers consume just 6 liters of water per kilo of laundry. This is less than half the amount consumed only 20 years ago.
Green technology for a greener future
This year's World Water Day provides an opportunity for businesses to seize their moment to take positive action and reduce water consumption. It is a win-win. The businesses that make changes will cut overspending, cut wastage, and save money without affecting the quality of their service or their standards of hygiene.
If you're wondering how to reduce water usage for World Water Day 2023, then begin by making a water saving strategy. Whether it's a small-scale, daily change like using less water from the faucet or a longer-term policy initiative that includes investing in eco-conscious appliances, each decision will deliver benefits for your business and for the world.
Five ways your business can reduce water consumption this World Water Day
2023-03-22T08:55:41+00:00