Culinary Institute of America Fellow Fred LeFranc and his wife Lauren LeFranc, owners of Results Through Strategy, hosted the 2017 Fellows Weekend Getaway on March 31 in Charlotte, North Carolina.
The LeFranc's kicked off the weekend at their home on Friday evening starting with a welcome reception prepared by CIA alumni Stratos Lambos '96 and Angelo Kaltsounis '96 of Xenia Hospitality Group, which included a cocktail hour, raw bar and three-piece Brazilian band, followed by a five-course family-style Mediterranean feast.
The event hosted more than 60 attendees, including fellows and special guests.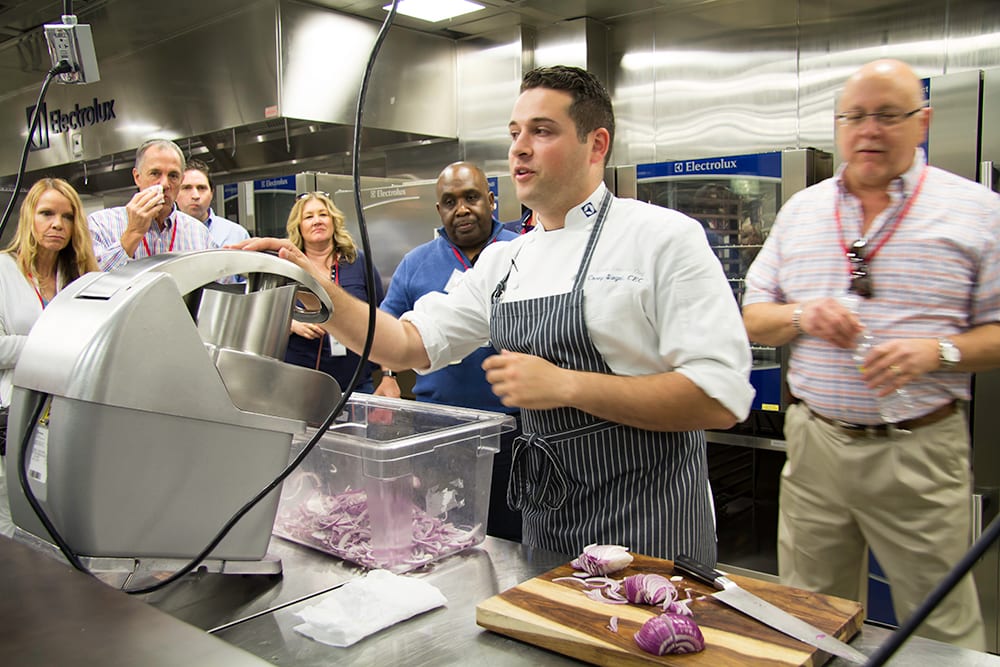 On Saturday, the group hit the town for an all-day adventure, seeing many of Charlotte's historic sites, and exploring regional farmers' markets and artisanal eateries.
During the tour, the group visited alumnus and CIA legacy Corey Siegel '10, Executive Corporate Chef at Electrolux; Corey's mother Allison Siegel '80 is an alumna and his grandfather, Alfred Rosenthal is a Fellow and former MOC; for a private tasting and tour of the Electrolux corporate offices and R & D kitchen. CIA alumna Shari Robins '82, Director of Culinary Innovation at Bakkavor USA supplied many of the food samplings.
CIA alumnus (and soon-to-be Fellow), Bruce Moffett '95 of Moffett Restaurant Group was visited later that afternoon for an amazing tasting and cocktail at Stagioni.
Chef Moffett shared the rich history of this restaurant (one of three) and his love and affinity for the CIA with the group.
The afternoon ended with a private cocktail lesson and reception with Master Mixologist, Bob Peters at the Ritz Carlton's "secret bar," The Punch Room. After a bit of rest, Fellows reconvened in the Parlor Room at the Historic Dunhill Hotel for a private cocktail reception and five-course wine dinner with the Executive Chef of The Asbury, Matthew Krenz.
CIA Fellows visit Electrolux for private tasting, tour
2017-04-25T12:54:34+00:00