Product Features
Priority on people
Certified ergonomic design with a human-centered approach for an outstanding user experience
• Lint filter
The horizontal filter drawer is positioned for easy access and cleaning without the need to bend down
• Reversible door hanging for a convenient laundry flow
• Easy access to vital parts from front and rear for simple servicing

Long-term savings
Innovative features to save money and time, and embrace a sustainable lifestyle
• Moisture Balance (optional)
Helps to stop the drying process at the right time to save on energy costs

Pure control
Monitor your equipment and performance from anywhere, allowing to take action and to improve your business with OnE Laundry - the personal assistant for hygiene validation management, process management and revenue management (optional).

Outstanding productivity
Dry more laundry in less time: a game-changing improvement
• Reversing drum
Minimizes wrinkles and drying time to get an effective and even drying performance with 2 full loads per hour
Global Advanced Hygiene
Global Advanced Hygiene program package with proven log 6 reductionbdisinfection of textiles through the laundry process, fulfilling the criteria of all local approved standards
Specifications
Main specification
Rated capacity, filling factor 1:18, kg/lb 11/23
Rated capacity, filling factor 1:25, kg/lb 8/17
Drum volume: 190 lt
Drum diameter: 680 mm
Dimensions
Width: 720 mm
Depth: 765 mm
Height: 1115 mm
Documents
Brochures
Data Sheet
Wall Instructions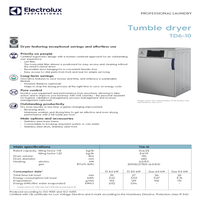 TD6-10 - Compass Pro
(619,98 KB)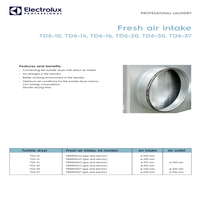 Fresh air intake L6000
(472,32 KB)
Product Support
Do you need support
for this product?
Get in touch with one of our Service Partners.
Interested in
this product?
Select on the map your area and get in touch with one of our Sales Partners
Do you own
this product?
You may be interested in user manuals. Please login and then click here to find out manuals.
Let us provide more for
your business!
Register your product and let us provide you with our best contents and customer care.