Product Features
Height adjustable stainless steel feet.

Compliant to CE requirements for safety.

Fully automatic in operation.

Operates over a wide range of temperatures.
Suitable for gravity drain only (no pumps needed).

Rated output is at an ambient air temperature of 21°C and water supply temperature of 15°C.

Compact dimensions of the ice cubers make them highly suitable for any location, particularly those where space is at a premium.

Model available in air-cooled version.
CFC and HCFC free, highly ecological refrigerant type: R290 (ecological gas in foam: cyclopentane). Hydrocarbon refrigerant gas R290 for the lowest environmental impact (GWP=3), to reduce green house and ozone depletion effects.

Bin integrated as standard.

CFC and HCFC free (highly ecological refrigerant type: R290).

Air filters are easily removable and cleanable without tools.
AISI 304 stainless steel evaporator ensures a safe contact with ice.

The water basin, sealed and hermetic is a barrier for dust and impurities.

Reduced energy consumption by fully insulated storage bin.

Electronic sensor continually monitors the rotation speed to ensure machine efficiency.
The ice making method guarantees a continuous and reliable production.

Little cone shape with irregular slightly crushed sides.

Rounded internal corners for ease of cleaning.

Easy access to the main components for maintenance.
AISI 304 stainless steel exterior.

Stainless steel spray arms removable without the use of tools.

Reliability guaranteed by the quality of the construction materials used (plastic flap on the front, top and sides in 304 AISI stainless steel) and the sophisticated product and process technology involved.

The inox sprayers are easy to take away, permit a simple flowing and prevent limestone formation.
Internal ice cubes container in ABS.

ON-OFF rocker switch.
Specifications
Electric
Supply voltage: 220-240 V/1 ph/50 Hz
Electrical power max.: 0.7 kW
Key Information:
External dimensions, Width: 738 mm
External dimensions, Height: 851.5 mm
External dimensions, Depth: 690 mm
Net weight: 90 kg
Output: 142 kg/day
Kind of cube:
Documents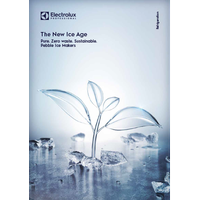 Pebbles Ice Makers
(1,43 MB)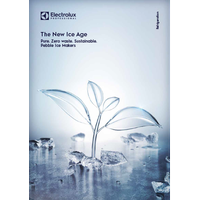 Pebbles Ice Makers
(1,48 MB)
Product Support
Do you need support
for this product?
Get in touch with one of our Service Partners.
Interested in
this product?
Select on the map your area and get in touch with one of our Sales Partners
Do you own
this product?
You may be interested in user manuals. Please login and then click here to find out manuals.
Let us provide more for
your business!
Register your product and let us provide you with our best contents and customer care.