Product Features
Plug in unit designed for drop in installations.

2-color user interface (white and red) for better readability.

Rapid heat trasfer directly to the pan, no heat is dispersed into the environment.

Sealed heavy duty glass-ceramic cooking surface, 4 mm in thickness.
Automatic pan detection to transfer power only when pan is present.

Glass touch display on top for maximum visibility.

Power level settings from 1 to 10.

Timer function can be used to set the cooking time, switching off the zone automatically at the end of the time set.
2 independently controlled cooking zone.

BRIDGE FUNCTION allows to combine the two separate cooking zones to create a single large surface suitable for rectangular pan of max dimensions of 350x450mm.

Suitable for pots and pans with diameter from 120 mm to 240 mm for each cooking zone.

Maximum usable power: 3.5 kW. The user interface shows the power level selectable on each cooking zone according to the power used.
Self-diagnostics: an error code is displayed (Exxx) in case of dysfunction.

Heavy duty AISI 304 Stainless steel construction.

Cord and plug included.

IPx4 water protection.
Specifications
Electric
Supply voltage: 220-240 V/1N ph/50-60 Hz
Front Plate Watts: 3.5 kW
Back Plate Watts: 3.5 kW
Plug type: CE-SCHUKO
Minimum Circuit Ampacity (MCA): 16A
Key Information:
External dimensions, Width: 392 mm
External dimensions, Height: 127 mm
External dimensions, Depth: 592 mm
Net weight: 14.5 kg
Documents
Brochures
CAD Drawings
Data Sheet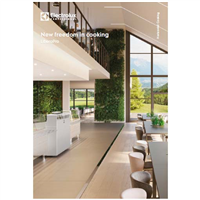 LiberoPro brochure
(4,99 MB)
Product Support
Do you need support
for this product?
Get in touch with one of our Service Partners.
Interested in
this product?
Select on the map your area and get in touch with one of our Sales Partners
Do you own
this product?
You may be interested in user manuals. Please login and then click here to find out manuals.
Let us provide more for
your business!
Register your product and let us provide you with our best contents and customer care.