Product Benefits
User-friendly
Designed specifically to ensure safe and simple operation. Large door opening, easy-to-use interface, very low noise and vibration level are appreciated features.

Tailored to your needs
Extra Spin models are robust and reliable in any type of installation which needs a basic product.

Economical
With our high efficiency shirt finishers you will get high quality finished shirts. Our presses with nickel-plated head reduce heat loss and save energy.
Trouble free operation
The special design and technical features will guarantee trouble-free operation and excellent finishing results. Our machines are provided with an anti-stretching device to protect waistband and legs from deformation when finishing elastic fabrics.

Product Features
Easy-to-use electronic control panel, RABC (Risk Analysis and Biocontamination Control – EN 14065) compatible

DIAMMS (Direct Ironer Advanced Moisture Management System); Automatic speed adjustment with moisture sensors to ensure a perfect result

Spring loaded pressure roll ensuring outstanding ironing quality

Return feed, can be installed close to a wall for maximum space utilization
Fully encased machine for maximum workplace safety and energy saving

Finger guard protection provides additional safety for operators

Durable ironing belts of Nomex® withstand temperatures above 220°C

Nickel-plated cylinder prevents rust and improves life-time
Easy access to all parts for easy maintenance

Maintenance free ceramic gas burner minimizes downtimes.20% more efficient than regular blue flame burners. A unique and patented burner by Electrolux
Specifications
Main specification
Capacity. max water evaporation (el/steam/gas), l/h
Ironing speed, m/min
diameter (el/steam/gas), mm
Cylinder length, mm
Dimensions
Width: 2575 mm
Depth: 950 mm
Weight, net kg 675
Weight, crated kg 855
Height: 1270 mm
Other specifications
Airborne sound level, db(A) db(A)
Documents
CAD Drawings
Data Sheet
Wall Instructions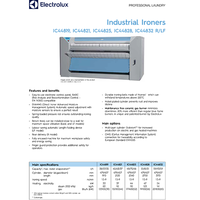 IC44819 - IC44832 - /R/LF
(327,11 KB)
Product Support
Do you need support
for this product?
Get in touch with one of our Service Partners.
Interested in
this product?
Select on the map your area and get in touch with one of our Sales Partners
Do you own
this product?
You may be interested in user manuals. Please login and then click here to find out manuals.
Let us provide more for
your business!
Register your product and let us provide you with our best contents and customer care.