Electric small pot&pan washer with WASH-SAFE CONTROL, drain pump, detergent and rinse aid dispenser, DIN 10512 and A0 60 certificate
Product Features
Performance is certified for disinfection level according to DIN 10512 standard (1st and 2nd cycle) and A0 60 level according to EN 15883-1 standard (3rd cycle as Disinfection cycle) by independent third party.

Built-in atmospheric boiler sized to raise incoming 50 °C water to 90 °C minimum for sanitizing rinse. No external booster is required. Constant temperature of 90 °C thoughout the rinsing cycle regardless of the network's water pressure.

Green light of "WASH SAFE CONTROL" confirms that items have been rinsed properly.

High efficiency air gap (class A) in water inlet circuit to avoid water being siphoned back contaminating the network is compliant with EN 61770 standard, WRAS, Belgaqua back-flow prevention requirements.
180/ 360 second cycles is certified according to DIN 10512 standard. While 480 second cycle is certified A0 60 level according to EN 15883-1 standard which including final pause to improve the drying result to avoid water residuals on the washed wares.

4 washing programs (one program is continual).

Equipped with 3-sided wash arm in addition to upper and lower revolving arms provides more powerful wash water from all angles for the best cleaning of soiled items.

Door fold down 180° to easy access to the washing chamber and facilitate daily cleaning.
Unique temperature interlock guarantees required temperatures in both the wash and final rinse.

Double skinned insulated wall ensures a low noise level and a reduction in heat loss from the machine.

Built-in rinse aid and detergent dispenser with automatic initial and continuous cycle loading for perfect result while minimizing service and maintenance needs.

Automatic self-cleaning cycle to avoid bacteria proliferation.
State-of-the-art electronic controls with built-in programming, self-diagnostics for serviceability and automatic interior self-cleaning cycle.

Digital read-out keeps operator informed as to temperatures.

Fault auto-diagnosis system.

Low noise level.
Unit to include drain pump, detergent and rinse aid dispenser pumps.

304 stainless steel boiler with higher welding protection to increase resistance to corrosion.

External connecting board protected by a waterproof plastic box.

Unit to feature smooth surfaces to facilitate cleaning.
Easy to remove pump and tank filters.

Large strainer box above the water surface for frequent cleaning operations.

Pre-arranged to be connected to Energy Management device.

304 AISI stainless steel front and side panels, wash tank, tank filter and wash and rinse arms.
Specifications
Electric
Supply voltage: 400 V/3N ph/50 Hz
Convertible to: 230V 3~
Default Installed Power: 13 kW
Boiler heating elements:
Tank heating elements: 7 kW
Wash pump power: 2.5 kW
Key Information:
N° of working cycles: 4
Duration cycle:* 180/360/480/inf sec.
Washing cycle temperature: 77 °C
Hot rinse cycle temperature: 90 °C
Baskets per hour*: 20
Cell dimensions - width: 670 mm
Cell dimensions - depth: 710 mm
Cell dimensions - height: 570 mm
External dimensions, Width: 876 mm
External dimensions, Height: 1791 mm
External dimensions, Depth: 900 mm
Net weight: 200 kg
Shipping weight: 244 kg
Shipping height: 2030 mm
Shipping width: 1010 mm
Shipping depth: 1020 mm
Shipping volume: 2.09 m³
Water:
Pressure, bar min/max: 0.5-7 bar
Water supply temperature*: 50 °C
Washing tank capacity (lt): 95
Boiler Capacity (lt): 18
Rinsing water consumption (per cycle): 7 lt
Documents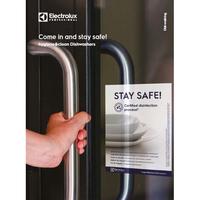 hygiene&clean Dishwashing
(1010,26 KB)
Product Support
Do you need support
for this product?
Get in touch with one of our Service Partners.
Interested in
this product?
Select on the map your area and get in touch with one of our Sales Partners
Do you own
this product?
You may be interested in user manuals. Please login and then click here to find out manuals.
Let us provide more for
your business!
Register your product and let us provide you with our best contents and customer care.