Bases for washer extractors and tumble dryers. A base brings the machien to a convenient working height.
Product Features
A base brings the machine to a convenient working height – for improved ergonomy in your laundry

Front and side panels of the machine are better protected from wear and tear when mounted on a base

Base IWS™ (Integrated Weighing System) for machines with Clarus Control. Load cells located in the feet weigh the contents of the drum as it being loaded. The current weight is displayed on the Clarus Control panel
Documents
Data Sheet
Leaflets
User Maintenance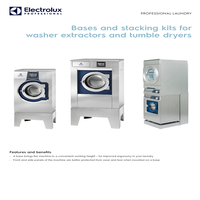 Bases and stacking kits L6000
(644,68 KB)
Product Support
Do you need support
for this product?
Get in touch with one of our Service Partners.
Interested in
this product?
Select on the map your area and get in touch with one of our Sales Partners
Do you own
this product?
You may be interested in user manuals. Please login and then click here to find out manuals.
Let us provide more for
your business!
Register your product and let us provide you with our best contents and customer care.