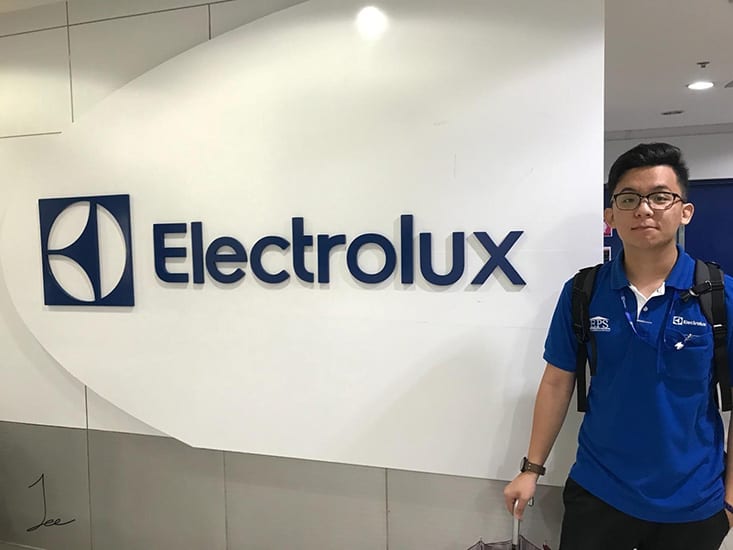 Ong Yew Joe, a 23-year old student specializing in Aerospace Avionics at Nanyang Polytechnic, Singapore, spent six months as an intern with Electrolux Professional in Rayong, Thailand and here's how he remembers the experience.
Given your background in Aerospace, why take up an internship with Electrolux and how did it come about?
I was looking for a more fulfilling experience, more than doing something that I was already familiar with. A friend of mine told me about his internship at Professional and left with me a good impression. Then I had the opportunity to join Professional in Rayong for six months and worked with
projects ranging from assisting other colleagues in managing internal codes in paint shops to creating training materials and work instructions for various on-the-job trainings and producing daily, weekly and monthly reports. I was able to pick up different skills and learn something new constantly from projects to projects.
What advice would you give to others in taking an internship abroad?
For adventurous types, interested in experiencing different work cultures, the Professional Factory in Rayong is the ultimate internship. I had a lot of interesting learnings and memorable surprises. For example, I was really amazed that everyone has a nickname which makes the atmosphere more informal – something we don't tend to have in Singapore.
I have also learnt not to be afraid to ask people to repeat themselves so instructions are clear. In a global company like Professional, when communicating with colleagues who have a different mother tongue, language can be a barrier. Asking multiple times for confirmation of what you've heard is a good thing and is really important since it prevents misunderstanding and mistakes.
What is your perception of Electrolux as a company?
Electrolux is a great company; and I feel I've been well taken care of during my internship. My tutor and colleagues had no issue going the extra mile to help me understand and my learning was also supported by common employee trainings and workshops to gain new skills. I was motivated to ask questions and learn as much as I can.
What was your most valuable learning from this experience?
I would say "being a team player". As the say goes it takes a team to build a dream. Each project I was on was usually comprised of 4-6 members and I learnt to work well in the team; I was able to deliver each task assigned to me, sometimes even achieving unexpected additional value to the team. I believe this team experience will remain an important asset for my future, in any industry or company.
Check out our global career site to discover more on our internship opportunities.
Thai hospitality and a great learning experience
2019-07-26T16:16:06+02:00