He's an engineer who loves 'lean' principles and has seen his career move from the factory floor to the heart of the business.
Having started out as a Production Manager, spending his days in our Pordenone plant, Alessandro now works across his native Italy as the country's After Sales Director.
A career move from the factory floor to the heart of the business
Alessandro Mussato is Professional's After Sales Director for Italy but his first job with the company over 13 years ago was Production Manager in our factory in Pordenone.
He explains how he made the shift, what skills he brought with him, the challenges faced in his new role during the pandemic and what advice he would give to others looking to take their career to new horizons.
What were your initial career ambitions?
I obtained a master's degree in mechanical engineering with a focus on lean principles that was deepened by working during my final thesis. Lean philosophy goes well with my way of being, that's why I wanted to work as a lean consultant in operations. My first job was exactly that, implementing lean concepts in operations for numerous companies. I then joined Electrolux Professional in 2007 as Production Manager for the refrigeration category.
How did the move from operations to the commercial part of the business happen?
After spending several years in production, I realized the need to move to commercial, so I asked myself: what business segment needs strong problem-solving skills and faces new daily challenges? Customer Care – what else?!
That's why in 2011 I caught a flight with no hesitation to interview for the position of Regional Service Manager for Central Eastern Europe, Russia, Turkey and Greece. Since then, I have strengthened my skills and worked in various positions in Customer Care until January 2020 – when I joined the Italian commercial organization, with the privilege to lead the aftersales team.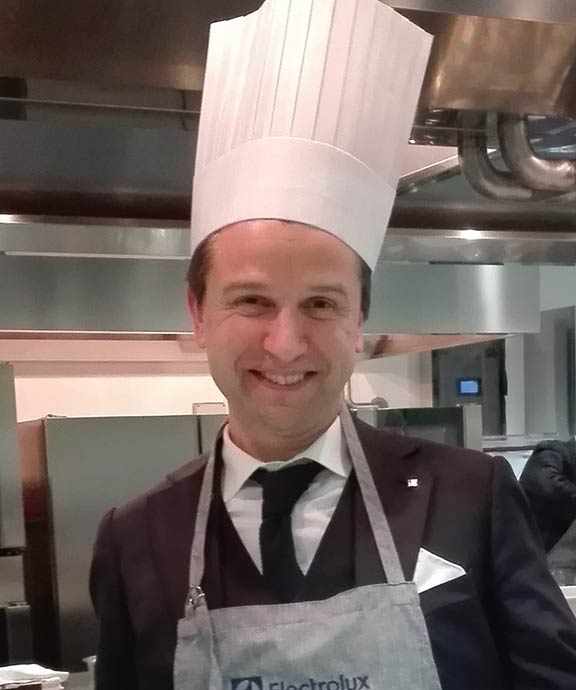 What do you enjoy most about your job?
I love my job for many different reasons, especially for the possibility to solve the challenges of customers, service partners and colleagues in after sales, every day. I aim to propose the right service solution to customers with a holistic approach that involves other departments such as sales, quality, R&D and operations – and even so far as marketing, to ensure that potential customers can see all the value we are able to offer.
So, I love the fact that there is never one single day like the next and I enjoy the feeling that I'm really part of the entire picture.
What impact has the pandemic had on your work?
It is not easy to join a new team when it's not possible to meet at the office, so it required extra effort in addition to starting a new job.
However, thanks to the expertise and resilient approach of the Italian aftersales team, despite all limitations, we have been able to develop and implement new solutions for our customers, partners and dealers on top of the day-by-day activities.
We found new ways to be close to our network with multiple video conferences and the introduction of  new digital tools and connectivity to help us manage service jobs and data-driven sales activities. Our technical support and training became digital with the launch of over 60 technical webinars, new videos about our products and remote support with augmented reality.
In addition, working from home allowed me to enjoy more smiles from my two little kids, which is priceless!
What skills from your years in production remain useful in your role today?
Everything I learned in operations is key to develop synergies between commercial and operations, with a holistic view of becoming increasing relevant in our industry.
Another useful skill comes from the Kaizen method or continuous improvement approach – the ability to listen to everyone's suggestions, posing questions and motivating people to express and implement new ideas and moving from a reactive to preventive approach.
Which famous person do you look up to as a role model?
Michael Jordan, for the excellent leadership skills and emotional intelligence he developed along the years. At the beginning of his career he played like a one-man show with unbelievable technical skills but without any success for the Chicago Bulls. He then recognized the need to change approach to the team and the game:  passion, motivation, charismatic communication and different leadership styles with his teammates allowed him and the Bulls to win many NBA championships and awards, making records which are still unbeaten!
What advice would you give to someone looking for a big change of direction in their work?
Be humble and don't be afraid to fail! Don't underestimate your capabilities when you read job requirements since some skills can be developed along the way, with the right attitude and passion. People, processes and tools are there to make you feel more comfortable in your role, no matter in which department you end up within Electrolux Professional.
With the pandemic it has become even more important for people and companies to be agile, fast and open to change, regardless of switching jobs or not. So be open to venturing outside your comfort zone because this is part of the actual market need, and at the end of the day it's very rewarding!
People of Professional: Alessandro Mussato
2021-04-23T19:25:12+02:00