In today's industry, inclusivity is everything, and nothing should be considered more important to a business than the wellbeing of its staff. That is precisely the principle we abide by at our ESAT "Pont des Meuniers" medical-social workshops in Hazebrouck, northern France. After all, if we look after our staff, we know they'll look after our customers by providing a laundry service which is second to none.
Since we began building our Hazebrouck laundry facilities back in 2004, we were fully committed to working with the ESAT initiative, France's scheme for giving disabled people access to the mainstream employment market. Our vision was to develop a laundry business specially adapted to people with disabilities, and it wasn't long before that vision had become a reality.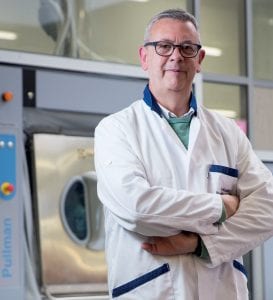 Putting staff wellbeing first
The partnership we established with Electrolux Professional means that some 14 years later, we now employ around 60 disabled members of staff across our two laundries. I'm proud to say we not only have an accessible workplace, but one which I'd argue pays more attention to the wellbeing of its workforce than any other laundry business in the country.
Catering for a workforce with a range of disabilities could be quite a challenge, but our strong belief in employee wellbeing means we see it as a huge opportunity to create a thriving and diverse workplace – something we've managed to do thanks to some very careful product considerations.
Equipment designed for inclusivity
So how have we managed to lead the way? The key has been investing in commercial laundry equipment which has been fine tuned with relatively small enhancements to make every process as simple as it can possibly be.
Commercial washing machines and tumble driers can be tricky to unload, so we've ensured all of ours are positioned on an incline. The workings of a large laundry can be noisy, so we've made sure all of our new equipment features soundproof doors; giving staff the peace and quiet they need to thrive. All of our laundries are also Risk Analysis Bio contamination Control (RABC) certified, meaning they've been tested to the highest hygiene standards. As for keeping an eye on detergents, we even have alerts in place to make sure staff don't have to keep checking the levels to know when they need refilling.
We like to think we've considered every possible way to make operating our laundry both simple and rewarding for our staff. The laundry now boasts multiple barrier washer extractors ranging from 20kg to 70 kg, as well as tumble dryers with rotating drums, additional washers and a 3m cylinder ironer. Such a diverse range of commercial laundry equipment needs to be simple to operate, and any one of our staff would happily tell you that's certainly the case!
Just as useful for us as a business, is the fact that Electrolux can guarantee access to spare parts, should we ever need them – no matter how old our machines might be. I know that in 10, 15, or even 20 years' time, Electrolux will still be on hand to offer us the same level of support, as it has done for the last 14 years.
While Electrolux are constantly working to improve the design of its products, we're always looking to improve the lives of our workforce. That shared ethos has certainly allowed us to create something truly special at Ateliers du Pont des Meuniers.
Christophe Maes, Director at Ateliers du Pont des Meuniers
The Commercial Laundry With Staff Wellbeing At Its Heart
2018-04-05T09:08:53+02:00